There were the most naturalisations among citizens of Somalia (3 100), Eritrea (2 800), Sweden (1 200), Syria (800) and the Philippines (700). More citizens of Nordic countries were naturalised compared to previous years, both in absolute numbers and as a share of the total number of persons being naturalised.
Double citizenship made legal
At 1st of January 2020 holding one or more other citizenships in addition to Norwegian citizenship was made legal. Up to that point the main rule was that naturalisation meant renouncing one's earlier citizenship. The amendment coincided with a sharp increase in the number of applications for Norwegian citizenship. A total of 54 700 online applications were registered with The Norwegian Directorate of Immigration (UDI). The number of applications in 2019 was 20 700. The waiting time for being assigned an appointment with the police was long. This was mainly due to the large number of applications, restricted opening hours and closed facilities because of the corona pandemic, as well as problems associated with capacity. At the end of the year, 21 700 cases were still open. This was an increase of pending cases from previous years. For more information see UDI's annual report for 2020.
The marked increase in number of naturalisations therefore largely reflects the fact that more people applied for Norwegian citizenship in the wake of dual citizenship being allowed. However, the long waiting time for applicants probably contributed to making the number of naturalisations somewhat lower than it would otherwise have been.
Larger share of Nordic citizens
There have also been changes to the composition among those naturalised. As in previous years about one of three of those being naturalised were from countries on or around the Horn of Africa. The largest groups were Somali and Eritrean citizens. Swedish citizens were the third largest group, and the share of total naturalisations that involved persons from Nordic countries increased markedly compared to preceding years. In previous years, citizens from Nordic countries have made up a modest proportion of the persons who have been granted Norwegian citizenship. 11,1 percent of all those acquiring Norwegian citizenship in 2020 were Nordic citizens, compared to 3,3 and 1,4 percent in 2018 and 2019 respectively.
There may be many reasons for applying for Norwegian citizenship or to choose not to. Surveys suggest that the most common reasons for applying for citizenship are the person feeling a sense of belonging to Norway and the citizenship providing better opportunities in Norwegian society. Immigrants from countries in the EU/EEA have had few practical reasons to acquire Norwegian citizenship, as an EU/EEA-citizenship provides a person many rights while resident in Norway. Naturalisation has been an attractive option for many immigrants from outside the EU/EEA, as it, among other things, gives the individual the right to a Norwegian passport, lasting protection and a guarantee against deportation to other countries. These rights are of particular importance to immigrants having immigrated to Norway as refugees. It may seem like more EU/EEA citizens have wanted to obtain Norwegian citizenship after the introduction of the right to have multiple citizenship. About 3 700 people from countries in the EU/EEA were granted Norwegian citizenship in 2020, compared with 900 the year before. There have not been as many transitions to Norwegian citizenship among citizens from EU/EEA-countries since 1977 (Figure 2).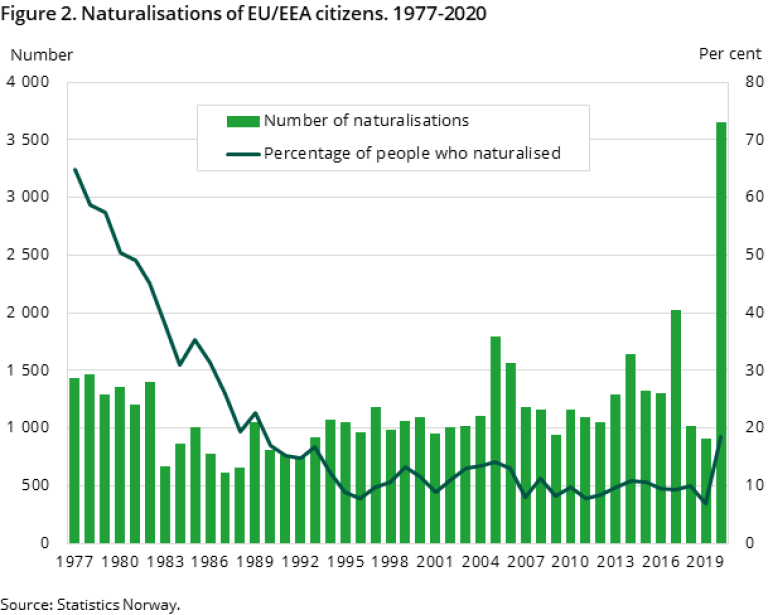 Long duration of residence among EU/EEA-citizens
With regards to duration of residence, the main rule is that one must have resided in Norway for seven out of the last ten years to obtain Norwegian citizenship. In previous years we have seen that the duration of residence varies among different groups of applicants. This is also the case in 2020.
Among those with background from countries outside the EU/EEA many had short period of residence when they obtained Norwegian citizenship. A majority of Syrians, Sudanese, Somalis and Eritreans had been living in Norway for eight years or less. Among persons from countries in the EU/EEA it was however far more usual to have lived in Norway for more than eight years before obtaining Norwegian citizenship. Only 14 and 9 percent of Swedes and Danes respectively had a duration of residence of eight years or less. There are a few exceptions from this general pattern. Only 39 percent of the Iranian citizens had lived in Norway for eight years or less at the time then they were granted Norwegian citizenship.
On average, the persons who received Norwegian citizenship in 2020 had lived in Norway for nine years. This was an increase of two years compared to 2017, 2018 and 2019, when the average duration of residence was seven years. The increase in the average duration of residence is most probably due to the larger share of persons from the Nordics and other countries in the EU/EEA among those naturalised.