Content
This is an archived release.
Exports of fish up
Imports of goods reached NOK 44.2 billion in August 2014, while exports amounted to NOK 66.6 billion. The trade surplus was thus down NOK 6.4 billion from August last year. Export of fish was up despite the sanctions against Russia.
External trade in goods1
NOK Million
Change in per cent
NOK Million - so far this year
Change in per cent - so far this year
August 2014
July 2014 - August 2014
August 2013 - August 2014
August 2014
August 2013 - August 2014
1The figures are marked with the symbol *. This is Statistics Norways standard symbol for indicating preliminary figures.
2Due to the data collection method, the preliminary monthly figures published for ships and oil platforms are often incomplete. In retrospect, therefore, the trade in these goods could in some cases lead to major corrections in the figures. Please see tables 2-4 for the impact these figures have on the external trade.
Imports
44 218
-5.9
1.3
358 091
5.4
Ships and oil platforms2
1 192
420.5
10.2
3 702
-37.8
Exports
66 574
-3.6
-8.1
590 610
-0.9
Crude oil
23 007
-2.5
-11.0
186 652
0.2
Natural gas
13 069
-5.1
-18.8
142 776
-10.4
Natural gas condensates
364
-43.4
-35.4
5 162
-8.1
Ships and oil platforms2
20
-87.6
-95.7
5 435
21.3
Mainland exports
30 114
-2.5
2.2
250 587
4.3
The trade balance
22 355
1.3
-22.4
232 519
-9.3
The mainland trade balance
-12 912
18.6
1.4
-103 803
-10.9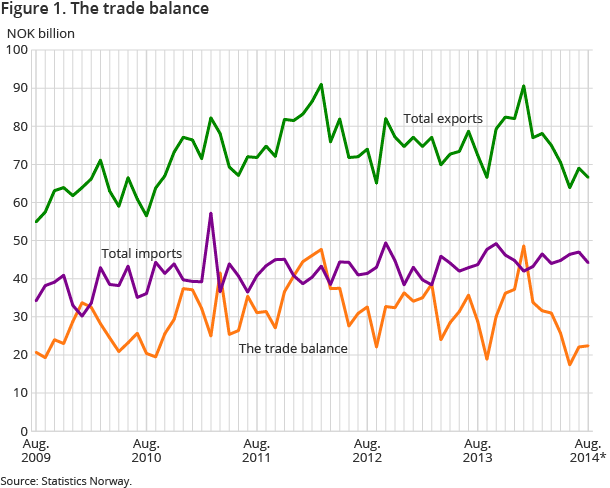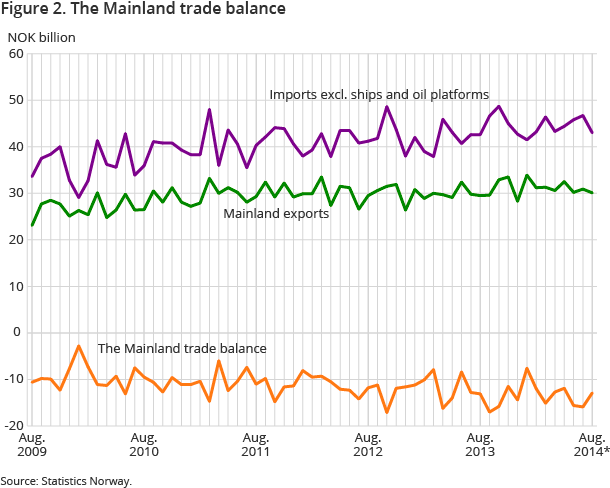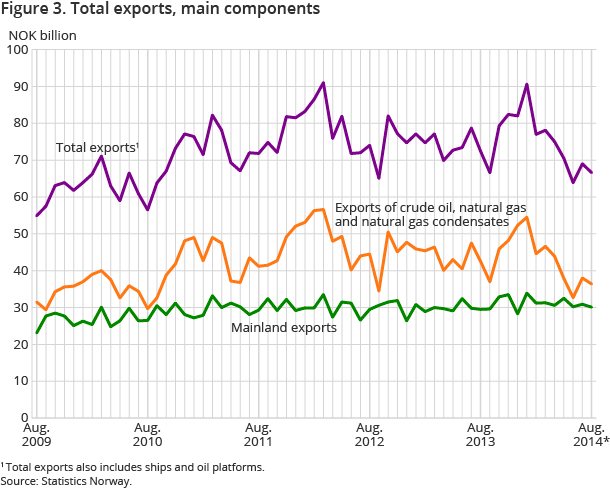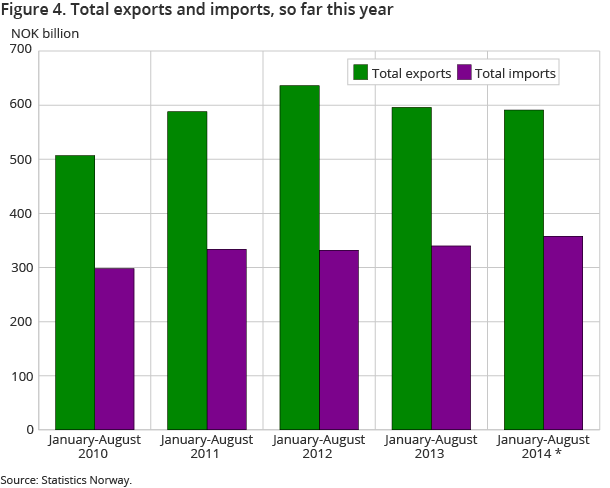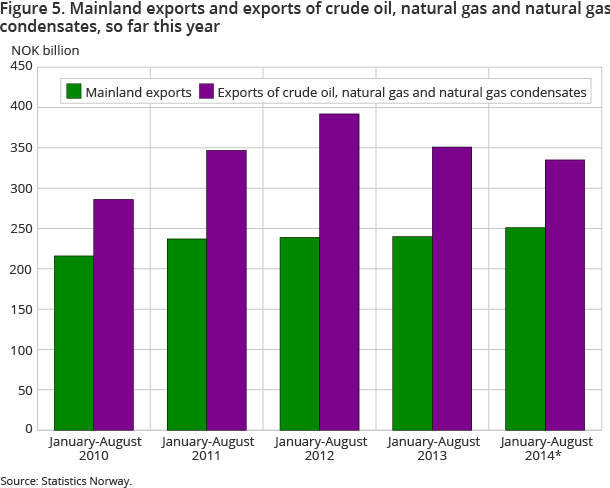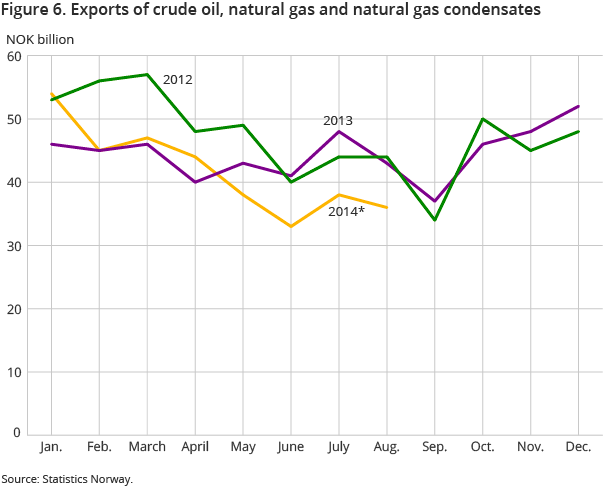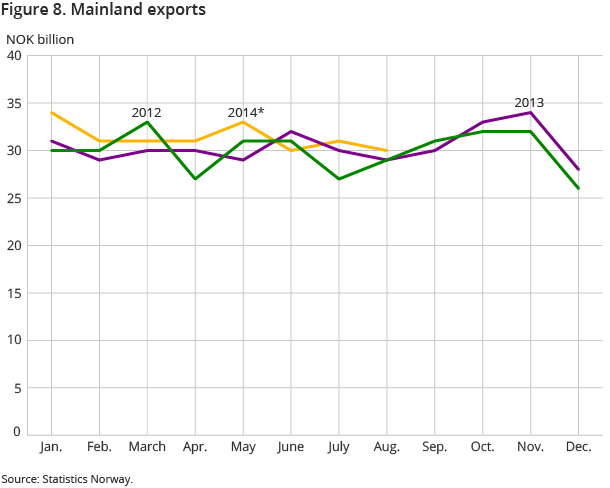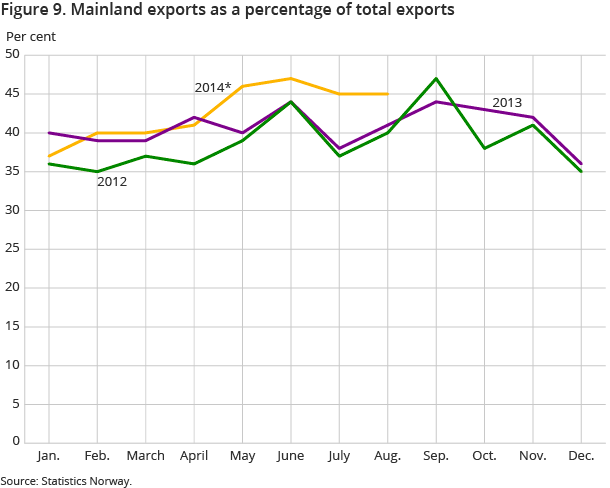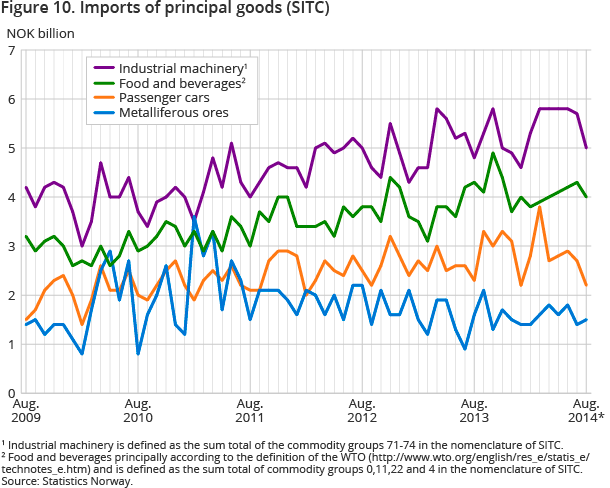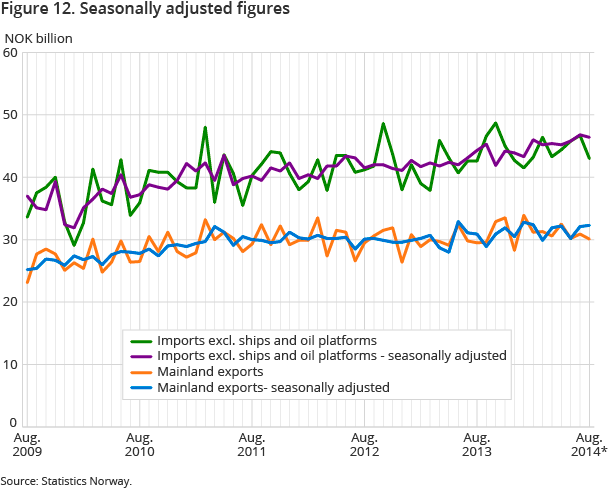 Imports rose by 1.3 per cent or NOK 564 billion, while exports had an 8.1 per cent decline of NOK 5.9 billion from August 2013. The surplus of the trade balance is thereby relatively low. As in July, exports of crude oil and natural gas draw the total export down. However, mainland exports increased from July 2013.
Reduced exports of shelf commodities also in August
In August 2014, the export value of crude oil was NOK 23.0 billion, down NOK 2.8 billion from August last year. The exported number of barrels was down by 2.1 billion. The average price per barrel of crude oil was NOK 634. This was NOK 33 lower than the previous month, and NOK 33 lower than in August 2013.
Exports of natural gas amounted to NOK 13.1 billion in August this year, which was 18.8 per cent lower than last August. Norway exported 6.8 billion standard cubic metres of natural gas. The decline in value was due to reduced prices compared to August 2013, as the export volume was higher.
Exports of fish to other markets
In August, mainland exports made up NOK 30.1 billion, up NOK 638 million – or 2.2 per cent compared to 2013.
Fish exports climbed in August by NOK 146 million to NOK 4.7 billion. This was despite the exports to Russia dropping by a total of 82.2 per cent compared to last year, and 95.0 per cent compared to this July, ending at NOK 96 million in August 2014. Exports of salmon, trout and herring to Russia saw a particular decline. However, the fish found other markets – and exports of fresh whole salmon were up NOK 88.3 million compared to July. Exports of herring to Ukraine also saw an increase.
Exports within the commodity groups iron and steel were up NOK 169 million. Non-ferrous metals jumped by NOK 539 million, and the price of aluminium has increased in 2014. Furthermore, exports of general industrial machinery and equipment jumped NOK 845 million, while exports of refined petroleum products were down NOK 1.3 billion compared to August 2014.
Increase in imports of machinery and transport equipment
Imports in August amounted to NOK 44.2 billion; a small increase from August last year of NOK 564 billion, or 1.3 per cent.
Imports of machinery and transport equipment came to NOK 16.7 billion in August 2014; NOK 1.1 billion more than last August. Industrial machinery was up by NOK 209 million. The increase in machinery for special industries was the highest, where civil engineering and contractors' plant and equipment was up by NOK 152 million. Imports of other transport equipment were up NOK 655 million, due to both aeroplanes and ships. Car imports dropped NOK 125.2 million, but the level is quite normal for August.
Imports of manufactured goods were up NOK 846 million, and miscellaneous manufactured goods showed an increase of NOK 185 million compared with August last year. The 44.9 per cent reduction in imports of the main commodity group mineral fuels, lubricants and related materials is due to lower imports of crude oil.
Find detailed figures for External trade in goods