Content
This is an archived release.
Growth in Norwegian R&D activity remains stronger than in the EU
The business sector performed research and development (R&D) to a value of NOK 27.8 billion in 2015; an increase of 12 per cent from 2014. At constant prices, the increase was 9 per cent. This growth is clearly higher than in the EU and the other Nordic countries.
Research and development in business enterprise sector
2015
2014 - 2015
All enterprises (10+ employed)
Level
Percentages
Change in per cent
Intramural R&D expenditure (NOK million)
27 782.4
100
12.0
Industry
Manufacturing
10 091.9
36
10.9
Services total
14 529.9
52
13.5
Other industries
3 160.6
11
8.8
Size of enterprise
10-49 persons employed
7 346.0
26
50-99 persons employed
3 129.3
11
100-199 persons employed
2 986.5
11
200-499 persons employed
3 091.6
11
500 persons employed and more
11 229.0
40
R&D man-years (number of)
19 087
6.4
Extramural R&D expenditure (NOK million)
6 780.8
7.2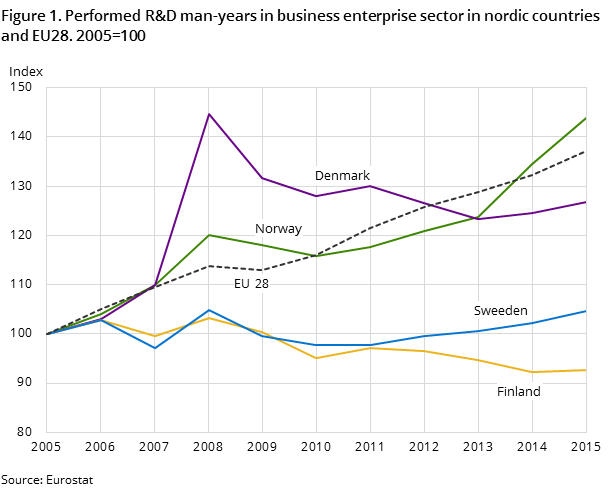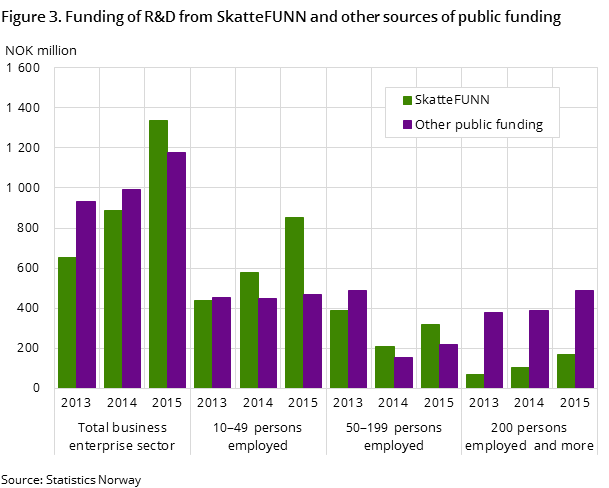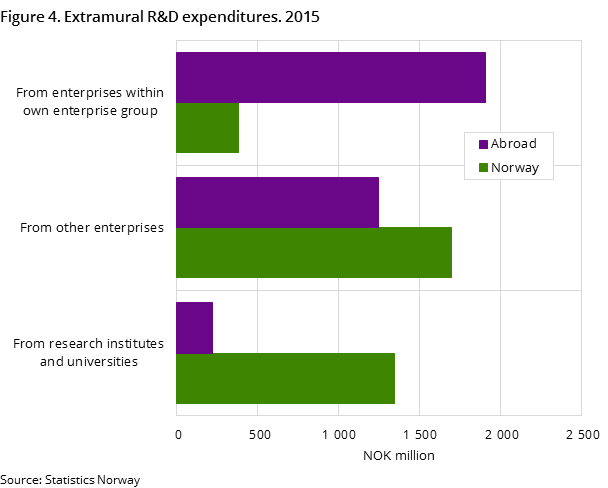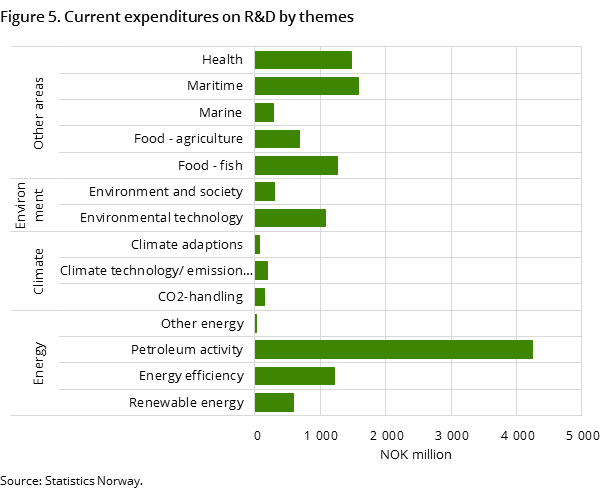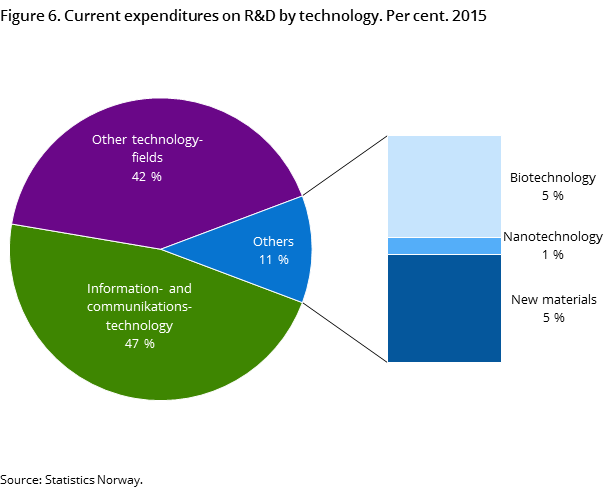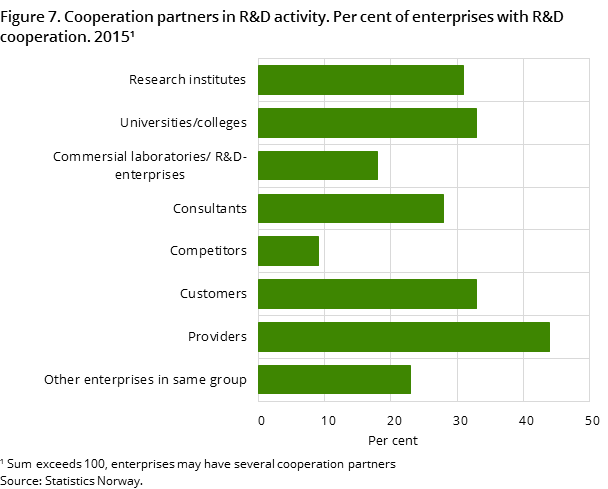 The business sector has shown a strong increase in R&D activity for the second consecutive year. In the other years since 2010, the growth in real terms has been 3 per cent yearly.
Stronger R&D growth than the EU
The growth in business R&D activity in Norway has also been strong in an international context over the last two years. Performed R&D man-years in Norway, including industry-oriented research institutes, have increased by 7-8 per cent over the last two years. The corresponding figure for the EU28 has been 2-3 per cent. The growth has also been lower in the other Nordic countries. Both Sweden and Denmark had a weak growth, at around 1.5 per cent from 2014, while the figure for Finland is unchanged after a period with a negative trend for Finnish business enterprises. Taking the period 2010-2015 as a whole, the growth in Norway has been higher than the EU28, and clearly higher than the other Nordic countries.
Growth in R&D expenditure shows the same pattern as measured in national currency, but measured in euro the development for Norway is weaker due to the low exchange rate of the Norwegian krone. If we look at R&D expenditure as a share of the GDP, the share for Norway is lower than for both the EU and the other Nordic countries, with 1.05 per cent, while the share for EU28 is 1.3 per cent. Our Nordic neighbours Finland, Sweden and Denmark are all around 2 per cent. However, the trend for Norway is upwards, stable for Sweden and Denmark, and clearly decreasing for Finland. Traditionally, Norwegian industry has a relatively low share of total R&D in comparison to the other Nordic countries. This particularly applies to the manufacturing industries.
Strong increase in SkatteFUNN funding
Enterprises largely finance their R&D activities with their own funds, with more than 75 per cent of funding being sourced internally. When funding from other enterprises in the same group is included, the figure is 86 per cent. Public funding, including SkatteFUNN, amounts to 9 per cent.
There was a strong growth in the use of the tax credit system SkatteFUNN in the last two years. Total tax credits for R&D have more than doubled from 2013 to 2015. The amount for R&D expenditure eligible for tax credit has increased from a total of NOK 11 million in R&D expenditure in 2013 to NOK 33 million in 2015. However, only very few of the enterprises use this maximum amount. There are relatively few enterprises that have such a high R&D activity that they get the maximum reduction.
The figures from the R&D survey also show that funding via SkatteFUNN was more extensive than other public funding in 2015; SkatteFUNN accounted for 12 per cent more than other public funding of R&D for the business enterprise sector as a whole. For enterprises with up to 200 employees, SkatteFUNN is clearly a more important source of funding than other public support, while for the largest enterprises, other public support is of greater importance. However, with the increased frames for tax reduction it seems that larger enterprises are also starting to use SkatteFUNN more.
Large part of R&D services acquired from abroad
In addition to performing their own research and development, many enterprises acquired R&D services from other actors. The total expenditures for purchased R&D amounted to NOK 6.8 billion in 2015. Purchases from foreign actors accounted for 50 per cent. Over half of these are deliveries from foreign enterprises in the same enterprise group. Purchases of R&D services from other Norwegian enterprises accounted for 25 per cent of this, while research institutes, universities and colleges in Norway accounted for 20 per cent.
Themes and technologies
The R&D survey collects information on R&D activity within specific themes in accordance with the Government's long-term plan for research. Energy is clearly the largest of these themes. R&D with a value of NOK 6 billion was performed on this field in 2015, of which 70 per cent was related to petroleum activity. NOK 1.4 billion was used on environmental-related research, while NOK 424 million was reported for climate research. Of other prioritised themes, food was the largest with a value of NOK 2 billion, of which 2/3 was used on fish products and 1/3 on agricultural products.
Information is also collected on R&D in different technologies. Information and communication (ICT) is by far the largest, with a value of NOK 12 billion. Research within biotechnology and new materials amounted to NOK 1.3–1.4 billion each.
Cooperation
Research and development activity is quite often done in cooperation with others. Enterprises purchase R&D services from others and R&D personnel are hired from other enterprises and research institutions. In addition, 38 per cent of the enterprises participated in cooperation projects in 2015. This share increases with the size of the enterprise. Large enterprises cooperate more with universities, research institutions and R&D laboratories. For small enterprises, cooperation with suppliers and clients/customers is more common. Enterprises that are part of an enterprise group, cooperate to a large extent with other units in the group.
Cooperation partners are normally located in the same area or in other parts of Norway. However, there are also quite a few enterprises with a cooperation partner in the Nordic countries or other EU countries.
Norway's total R&D efforts
With 27.8 NOK billion, the business enterprise sector contributed to almost half of the NOK 60.3 billion spent on total R&D for Norway in 2015. This represents 1.9 per cent of GDP. In addition to the business enterprise sector, NOK 18.7 million was carried out in the higher education sector and NOK 13.7 million in the research institute sector. More information about total R&D activity is available at www.nifu.no/statistikk/fou-statistikk.
R&D statistics are based on information collected from the enterprises. All enterprises with 50 employees or more are included. In addition, a sample of enterprises with 5-49 employees is drawn and total figures for this group are calculated based on this sample. As a result, there is greater uncertainty surrounding the results for the small enterprises.
The SkatteFUNN figures from the R&D survey differ in absolute terms from figures from the tax authorities. The main reason is that the R&D survey in 2015 only covers enterprises with at least 5 employees and just a sample of enterprises with 5-49 employees. The R&D survey does neither cover all industries. For SkatteFUNN enterprises that participate in the R&D survey the amount may well have been recorded in different years and different amounts may have been reported to the R&D statistics of various reasons. Figures from the tax authorities show that the total tax reduction for R&D amounted to NOK 2.9 billion in 2015.
Find detailed figures for Research and development in the business enterprise sector