Content
This is an archived release.
Upturn in district heating consumption
The consumption of district heating rose by 13.2 1 per cent and amounted to 4.2 TWh in 2012; just 78 GWh less than the record high consumption in 2010.
District heating delivered to cunsumers, district heating price, investments
2012
Share in per cent
Per cent change compared to last year
Corrected 30 June 2014.
District heating delivered to cunsumer (GWh)
4 222
100.0
13.2
¬ Households
913
21.6
21.1
¬ Manufacturing etc.
482
11.4
19.0
¬ Services
2 828
67.0
10.0
Average price (taxes excluded) (øre/kWh)
56.6
-14.2
Total investments (1 000 NOK)
2 192 946
-28.4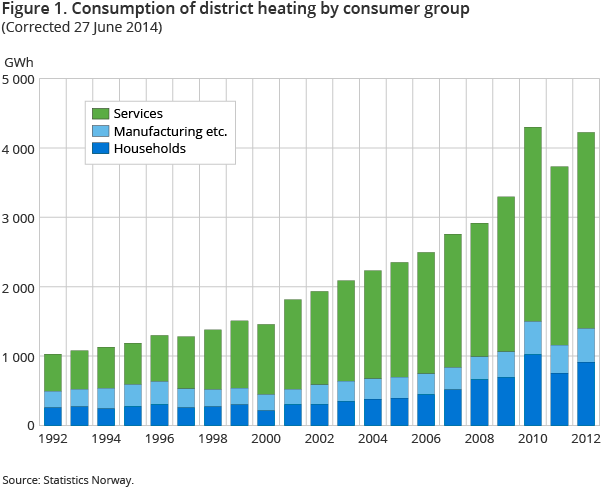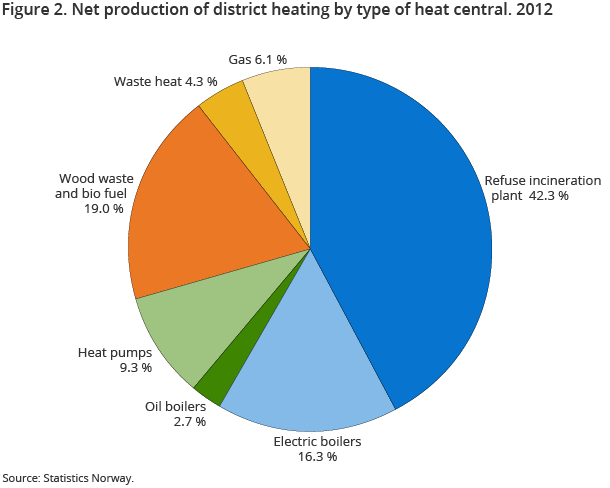 The year 2012 was relatively colder than the previous year, with a mean temperature of 0.4 degrees above the normal annual temperature compared with 1.8 degrees above normal in 2011. Colder weather explains some of the increase in district heating consumption.
67 per cent of consumption by the services sector
Service industries accounted for the largest share of consumption with 2.8 TWh. District heating consumption increased by 21 per cent to 913 GWh among households. For industry, the increase was 19 per cent to 477 GWh.
Waste incineration most common in district heating production
The largest share of district heating production came from waste incineration and accounted for 42.3 per cent. Bio fuels were the second largest source of energy for district heating. Nineteen per cent of district heating was produced from wood waste and bio fuel in 2012.
Less oil used in district heating production
The share of district heating produced from oil boilers went down by 5.2 percentage points compared with 2011. At the same time, the share of district heating produced from electric boilers and heat pumps increased by 3.3 and 0.5 percentage points respectively. This can probably be explained by the fact that the average price of heating oil increased from 9.7 to 10.1 NOK/litre, while the average electricity price went down .
Lower prices and investment
2009-2011 were years of record high investment in district heating. Compared with 2011, investments in district heating plants fell by 28 per cent and equalled around NOK 2.2 billion in 2012. Of this amount, NOK 1.4 billion was invested in production plants and NOK 0.8 billion in distribution facilities. Other investments amounted to about NOK 51 million.
The average price of heating decreased by 14 per cent in 2012 compared to 2011 and was 56.6 øre/kWh (excluding VAT). Revenues also declined slightly and totalled NOK 2.3 billion.

1 The percentage was corrected, 30 October 2013.
Find detailed figures for District heating and district cooling