Content
This is an archived release.
Refugee numbers up in 2015
A total of 49 000 persons with non-Nordic citizenship immigrated to Norway in 2015. Labour immigration showed the largest decrease, but was nevertheless still high. The number of refugees saw a significant increase compared with the previous year, especially from Syria.
Immigrants by reason for immigration
2015
Change in per cent
Total immigration since 1990
2014 - 2015
2005 - 2015
Total
49 043
-1.9
104.7
737 588
Labour
18 010
-15.9
180.0
248 216
Family
16 580
2.0
58.5
266 749
Refuge
9 221
31.2
134.3
141 312
Education
4 950
-1.45
63.2
76 794
Other
246
-1.2
141.2
3 762
Unknown
36
.
.
755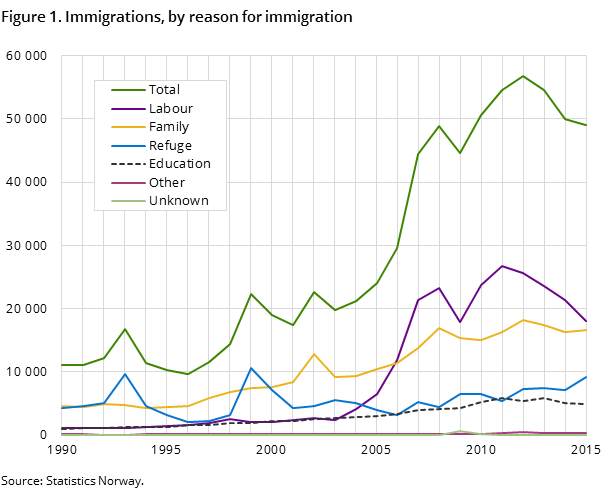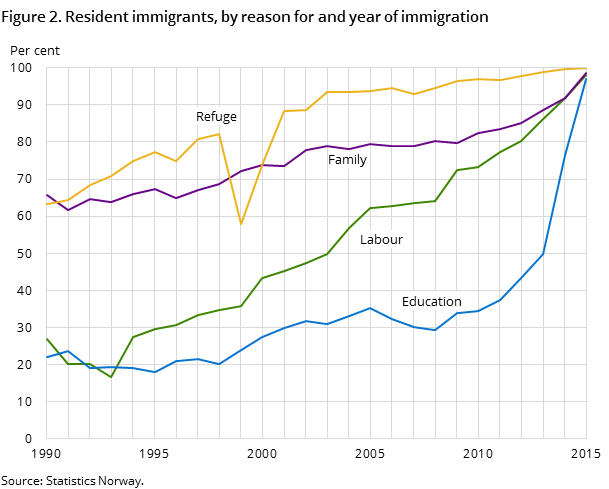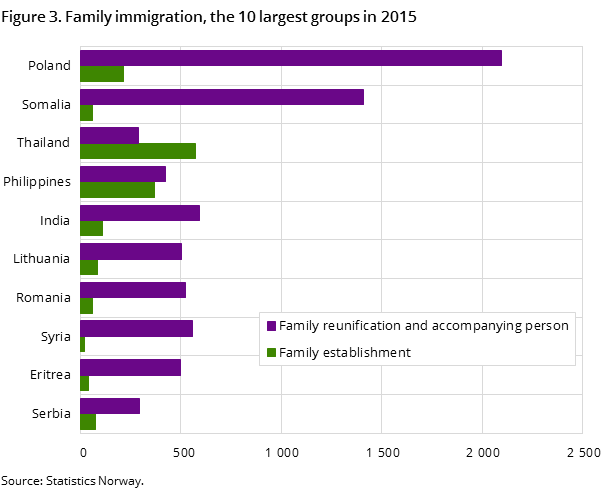 In total, there was a decrease of 1 000 persons with non-Nordic citizenship that immigrated to Norway compared with 2014. Labour was the reason for immigration for 37 per cent of non-Nordic immigrants in 2015, and one third were family immigrants. Nineteen and ten per cent were refugees and students respectively. Poles were still the largest group among labour and family immigrants that immigrated in 2015, while Syrians constituted the largest group of refugees last year. Among those who immigrated due to education or cultural exchange, many were from the Philippines.
Labour immigration continues to fall
In 2015, labour immigration decreased by about 16 per cent from 2014, but was still high. A total of 18 000 persons from non-Nordic countries immigrated for work in 2015. Labour immigrants from Poland made up the largest group in 2015, with 5 200 persons; a decrease of 1 400 from the previous year. Lithuanian labour immigrants were next, with 2 500 persons.
Significant increase in number of Syrian refugees
Compared with 2014, 2 200 more persons were registered as refugees in 2015. The 9 200 new refugees accounted for 19 per cent of all non-Nordic immigrants. The statistics on reasons for immigration do not cover asylum seekers who are waiting for a residence permit, but also among those who were granted a permit to stay in 2015, the Syrian refugees constituted the largest group with 3 300 persons. This corresponds to 36 per cent of all registered refugees in 2015. Citizens from Eritrea and Afghanistan were also large groups of refugees, with 2 600 and 1 100 persons respectively.
Find out more in our statistic about persons in Norway with refugee background.
Small increase in number of family immigrants
The three largest groups of family immigrants in 2015 were from Poland (2 300), Somalia (1 500) and Thailand (900). Family immigration in 2014 increased by around 400 persons compared with 2014.
A total of 16 600 persons immigrated for family reasons. Of these, 3 600 immigrated to a refugee. Thirty-eight per cent of family immigrants who immigrated to a refugee had a Somali citizenship.
Family immigration includes persons who immigrate through family reunification and those who immigrate through family establishment. In 2015, 12 600 persons came to Norway for family reunification, while 4 000 immigrated for family establishment through marriage. Out of those who came to Norway due to marriage, 1 800 persons, or 45 per cent, had a spouse without an immigrant background.
5 000 persons immigrated for education
Around 4 900 persons immigrated in 2015 due to education or cultural exchange. This was a decrease of 100 persons compared with 2014. Many of the immigrants in this group were from the Philippines, 1 200 persons, or 25 per cent. The number of registered persons from the Philippines is high because the au pair permit is also considered to be a type of education permit.
High portion of residents
A total of 737 600 persons with non-Nordic citizenship immigrated to Norway between 1990 and 2015, and 74 per cent of these were still living here at the beginning of 2016. Of those who immigrated as refugees, 85 per cent were still living in the country on 1 January 2016. The corresponding percentage for those who immigrated for education was just 40 per cent.
The statistics on reason for immigration give a breakdown of all persons who have immigrated to Norway for the first time, and were registered as a resident in the year, by reason for immigration. The person no longer has to be a resident. The breakdown is based on first citizenship. The statistics cover the years 1990-2015.
More information can be found in "About the statistics".
Find detailed figures from Immigrants by reason for immigration