Content
This is an archived release.
Figures as of 1 January 2014 are revised. Figures cited in this article are not revised and relate to the originally published figures. Revised figures per 1 January are available in the StatBank.
Increase in number of households
The number of private households in Norway amounted to 2 349 500 as of 1 January 2014. An average of 2.15 persons lived in each household.
Families and households
2013
20141
1Changes have resulted in a break in the time series. Figures from 2014 cannot immediately be compared to figures from 2013 and earlier. Some students have been moved from their formal place of residence to their place of study. For more information see the Statistics home page and About the statistic
Households
2 258 794
2 349 460
Persons in private households
4 990 842
5 046 327
Number of persons per private househol
2.2
2.1
Population by type of households
One family households
4 710 233
4 724 174
Two or more-family households
280 609
322 153
Other housesholds
60 433
52 222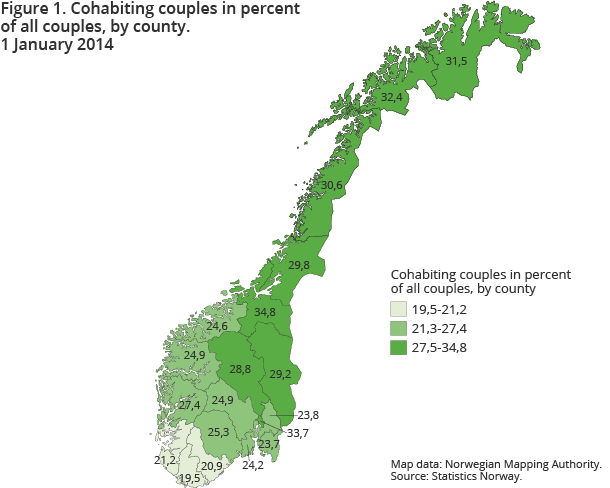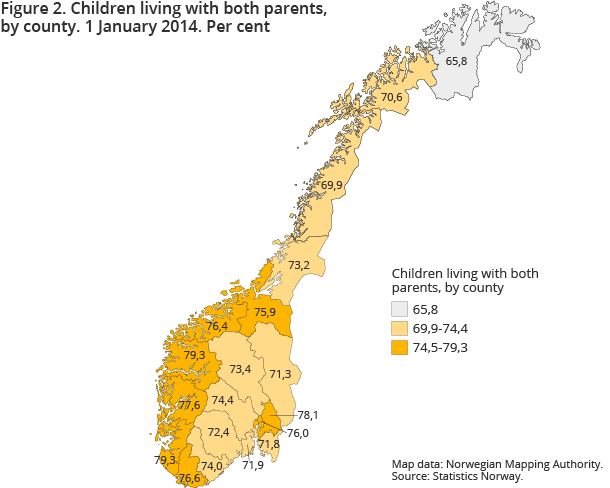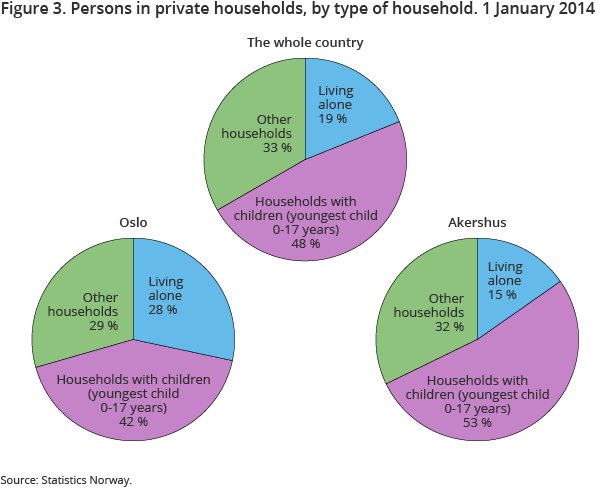 The long-term trend of more and smaller households continues. More people living alone and the large increase in the number of people living in Norway contributes to this development. It is noticeable however that half of the increase in the number of households from last year is due to changes in the procedure for producing statistics. Approximately 91 000 unmarried students previously counted in the household of their parents are now counted in households in the proximity of their place of study. Of these students, approximately 10 500 are studying abroad and are no longer considered to be part of the population in Norway. In total, these changes amount to an increase of 46 000 households. Due to these changes we see a greater increase in the number of persons living alone, couples without children and multi-family-households than would otherwise be found. More information on the new procedure, the statistical method used and the effect on the statistics is given in About the Statistics.
More people live alone
As of 1 January 2014, 960 000 persons lived alone in Norway, i.e. almost one in five persons. Households with one person constituted 41 per cent of the households. Persons living alone are mainly found in remote areas and in the large cities, especially in the central parts of the cities. In the municipalities surrounding the large cities relatively few people are living alone. Among the counties, Oslo is the one with most people living alone (28 per cent). In addition, Oslo is the county with the lowest percentage of persons living in households with children (42 per cent). The neighbouring and surrounding county of Akershus has the smallest share of people living alone (15 per cent) and the highest percentage of people living in households with children (53 per cent).
60 per cent live as a couple
Among the country's 3.9 million persons aged 18 years and above, 60 per cent are living as part of a couple. There are large regional differences. In Oslo, nearly half of the population did not live as a couple. In the neighbouring county of Akershus, the figure is 36 per cent, which is the lowest in Norway. Seventy-three per cent of the couples are married couples - including couples living as registered partners - 27 per cent are cohabiting couples. Seventy-two per cent of all persons aged between 18 and 29 years living as part of a couple are cohabiting. For the age group 30-44 years, 63 per cent of the couples are married couples. Among those 67 years and older, 95 per cent of the couples are married couples.
Most cohabiting couples in the northern and eastern parts of the country
Oslo, Hedmark and Oppland, as well as the counties in Trøndelag and Northern Norway have the highest proportion of cohabiting couples. Sør-Trøndelag was the top ranking, with 35 per cent. The municipality of Trondheim contributes heavily with 39 per cent cohabiting couples. Vest-Agder was lowest with 20 per cent.
Three out of four children live with both parents
At the turn of the year, 1.1 million children in Norway below the age of 18 were living with their parents. Seventy-five per cent of these children lived with both parents, while 25 per cent were living with one parent only. The proportion that lives with both parents decreases with age. Among the 1 year-olds, 88 per cent live with both parents. Among the 17 year-olds, this proportion is 61 per cent.
The proportion of children living with one or both parents differs between regions. While 66 per cent of the children in Finnmark live with both parents, almost 80 per cent of the children in the counties of Rogaland and Sogn og Fjordane do so.
Find detailed figures from Families and households