Content
This is an archived release.
Decline in retail sales
The seasonally-adjusted volume index of retail sales showed a decrease of 0.9 per cent from April to May 2014. This follows several months of growth.
Retail Sales indices, 2005=100
May 2014
Change in per cent
April 2014 - May 2014
May 2013 - May 2014
March 2013 / May 2013 - March 2014 / May 2014
Retail sales volume index: Excluding sales of motor vehicles. Seasonally adjusted numbers
128.4
-0.9
Retail sales volume index: Excluding motor vehicles and motorcycles and automotive fuel. Seasonally adjusted numbers
133.6
-1.0
Retail sales volume index: Excluding sales of motor vehicles. Workingday adjusted numbers
133.4
0.4
1.9
Retail sales value index: Excluding sales of motor vehicles. Working days adjusted numbers
148.3
2.4
4.0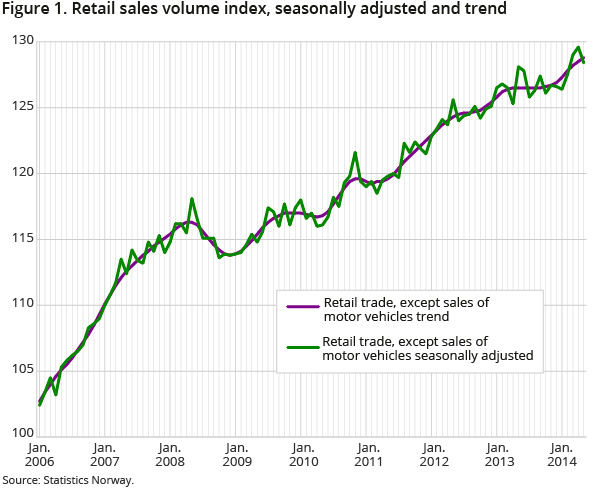 Several industries had a decrease in sales volume from April to May this year. Stores selling building materials, hardware and paints were among the industries that showed a decrease. Stores selling sports equipment, games and toys, amongst other things, also had a decrease from April to May. Stores selling clothing and shoes and sales via mail order and the Internet had a minor growth during this period. Grocery stores and sales of food, beverages and tobacco in specialised stores, however, were at the same level in May as in April.
Working-day adjusted figures show that retail sales rose by 1.9 per cent in the period March-May 2014 compared to the same three-month period in 2013.
Due to new information from the respondents, the sub-index concerning retail sales of automotive fuel in specialised stores is corrected from January 2013 up to April 2014. For retail sales in total, the volume index is adjusted up with an average of 0.1 per cent for the whole period.
Find detailed figures from Index of retail sales