Content
This is an archived release.
Government subsidies covered 86 per cent of expenditures
Government subsidies accounted for 86 per cent of gross operating expenditures in private kindergartens in 2015, and parental payments accounted for 16 per cent.
Maine figures - Accounts for private kindergartens
2015
1Number of private kindergartens who has been open all year.
All kindergartens1
3 053
Average hourly cost
Ordinary kindergartens
0-2 years
103.69
3 years
77.77
4-6 years
51.85
Family day-care centres
0-2 years
77.55
3 years
58.16
4-6 years
38.78
Revenue in per cent of gross expenditures total
Parental payments
16
Governmental subsidies
86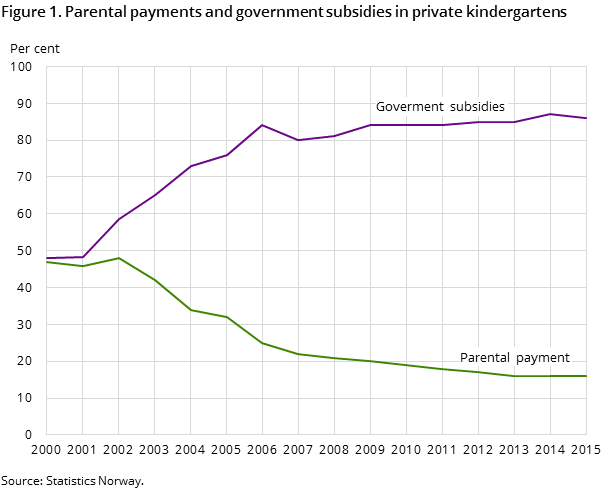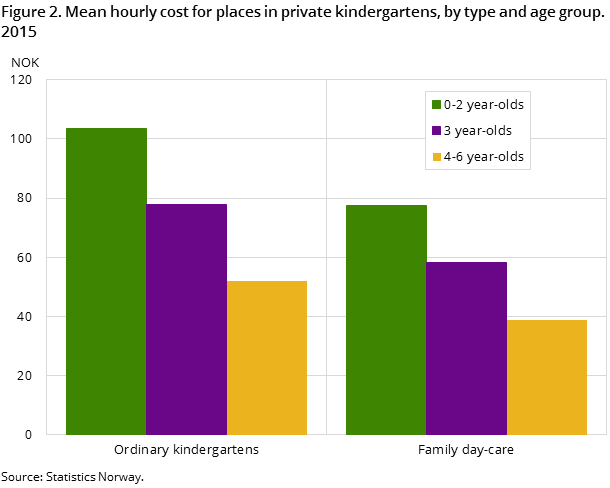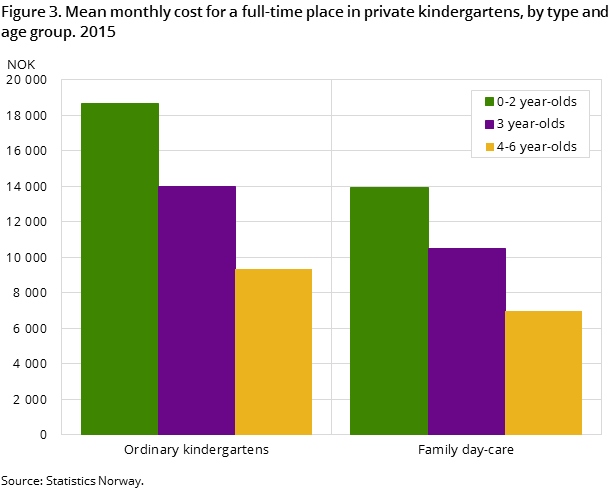 This means that the level of government subsidies has decreased by 1 percentage point compared with the previous year. Parental payments have remained stable in the last year.
In recent years, the proportion of government and parental subsidies of private kindergartens' operating expenditures have seen a change. In 2000, the proportion of government subsidies and payments from parents were almost identical, with 48 and 47 per cent respectively. The proportion of government subsidies increased in the period between 2000 and 2007, giving a share of government subsidies of 80 per cent. The development from 2007 to 2015 has not been as significant, but has given an 86 per cent share of government subsidies.
Hourly costs increased most in family day-care
The average costs are generally higher at private ordinary kindergartens compared with private family day-care. The youngest age group of children also has higher costs compared with the somewhat older children. The highest hourly cost was observed in the age group 0-2 in ordinary kindergartens, with NOK 104. The lowest hourly cost was in the age group 4-6 in family day-care, with NOK 39.
The average hourly cost increased most at private family day-care, by seven per cent from the previous year. At ordinary kindergartens, average hourly cost increased by five per cent from the previous year.
Full-time place for 0-2 year-olds costs NOK 18 665
The average monthly cost for a full-time place at private ordinary kindergartens in 2015 was NOK 18 665 for children aged 0-2 years, NOK 14 000 for 3 year-olds and NOK 9 300 for children in the age group 4-6. At private family day-care, the average monthly price for a full-time place for these age groups was NOK 14 000, NOK 10 500 and NOK 7 000 respectively.
Find detailed figures for Accounts for private kindergartens