Content
This is an archived release.
117 road deaths in 2015 – lowest since 1947
In 2015, 117 persons were killed in 102 fatal accidents on Norwegian roads. This was 30 fewer fatalities than in 2014. A total of 693 were severely injured, 19 more than the year before. The risk of being killed or seriously injured in a road traffic accident in Norway is among the lowest in the world.
Persons killed or seriously injured in road traffic accidents
2015
Average last 5 years
Killed
Severely injured
Killed
Severely injured
Total
117
693
153
690
Males
87
460
111
452
Females
30
233
42
238
Group of road user
Drivers of car
57
224
75
255
Passengers of car
19
95
25
123
Drivers and passengers on motorcycle and moped
21
155
21
124
Cyclists, pedestrians and persons sledging
17
203
27
173
Others
3
16
5
14
Age
0-15 years
3
49
5
40
16-24 years
32
110
29
146
25-44 years
28
199
39
205
45-64 years
30
214
44
193
65 years or older
24
121
36
103
Unknown age
0
0
0
2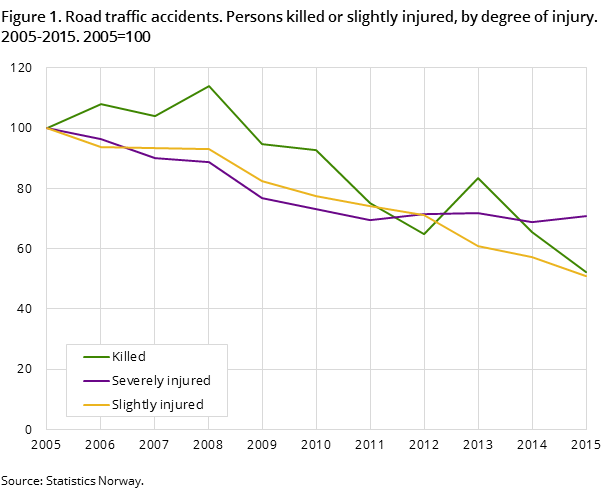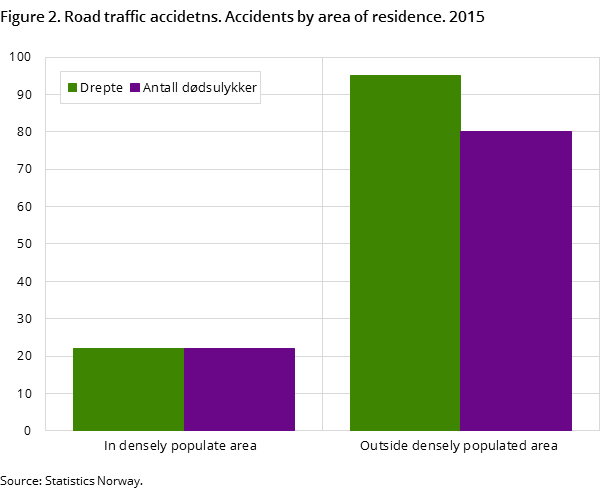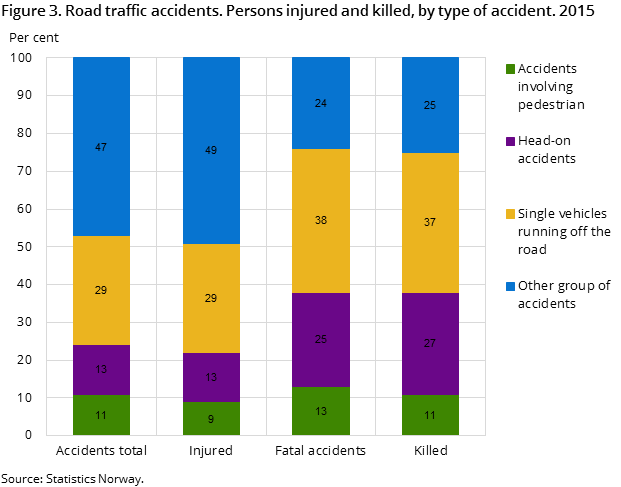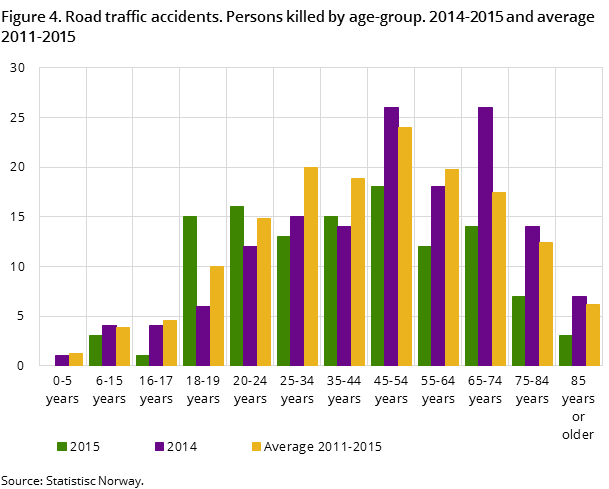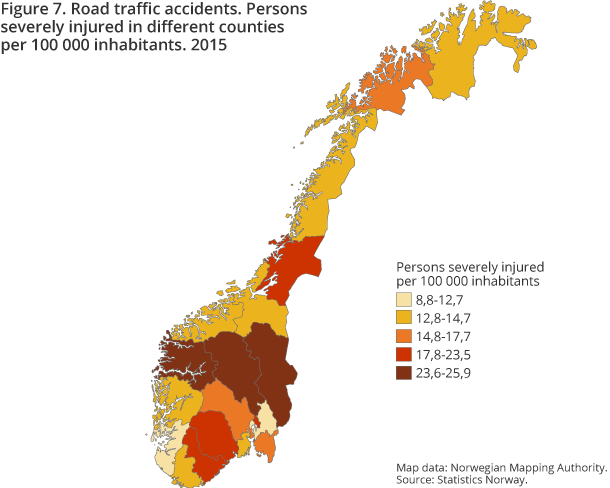 The number of fatalities in traffic continues to fall despite a steady growth in traffic and number of vehicles. In 2011, traffic fatalities totalled 168, making this the first year in recent times where the number of road fatalities was under 200. Except in 2013, when the number increased to 187, there has been a steady decline ever since.
Contrary to the trend of decreasing fatalities, the preliminary figures for 2016 show that the number of road fatalities has increased this year so far; in the first four months, 39 people lost their lives compared with 27 last year.
Lowest in Scandinavia
The risk of being killed in traffic, measured as the number of fatalities per 100 000 inhabitants, has traditionally been slightly lower in Sweden than Norway. A total of 117 fatalities corresponded to 2.2 fatalities per 100 000 inhabitants. In Sweden, 259 persons were killed in last year's traffic, equivalent to 2.6 fatalities per 100 000 inhabitants. The corresponding risk in Denmark and Finland was 3.1 and 4.7 respectively.
Second lowest in Europe
The most complete accident statistics for the 28 EU countries are from 2014. In 2014, Norway's 147 fatalities corresponded to a risk of 2.8 fatalities per 100 000 inhabitants. The lowest was Malta, with 2.4. This was followed by Sweden and Norway, with 2.8 each. The highest risk was in Latvia, with 10.6 fatalities per 100 000 inhabitants. To illustrate the disparity this entails, the number of fatalities in Norway would be 527 in 2014 with the Latvian risk exposure.
In total, 25 928 people were killed in road accidents in the 28 EU countries in 2014. The four countries Germany, France, Italy and Poland had about 3 300 traffic fatalities each, and accordingly accounted for just over half of all fatalities this year.
The number of severely injured increasing
The number of people severely injured in traffic accidents is decreasing, however this trend has more or less flattened out in recent years. In 2015, 693 people were severely injured, which is 19 more than the year before. The number has remained fairly stable at around 700 in the past five years.
The number of slight injuries has also been significantly reduced in recent years. In 2015, 4 831 persons were slightly injured, compared with 5 397 the year before. In 2011, the corresponding figure was 7 009. For slight injuries, we know there is a large degree of under-reporting, since many do not report these accidents to the police. However, we have no reason to believe that the proportion of non-reporting has changed significantly over the period.
Pedestrians and cyclists exposed in urban areas
Of the117 who were killed in traffic in 2015, 22 lost their lives within urban areas; 9 were pedestrians and 3 were cyclists.
Most fatal accidents happen outside urban areas. Ninety-five people were killed here, and the vast majority (73 per cent) were involved in either a single accident or head-on-collision, corresponding to 38 and 31 fatalities respectively.
Few children were killed
Only 4 children and young people under 18 were killed in traffic accidents last year, compared to 9 in 2014. Twenty-four people aged 65 or older were killed, which is half compared to the 47 killed in 2014. In the age group 45-64, 30 lost their lives, compared to 44 in 2014. The picture is less positive for 18-19 year-olds and 20-24 year-olds. Fifteen in the age group 18 to 19 were killed last year compared to 6 in 2014. For persons aged 20 to 24, there was an increase in the number of road fatalities from 12 to 16.
Most lost their lives in Oppland
Twelve people lost their lives in Oppland traffic in 2015, while nine died in Nordland.
More killed on heavy motorcycles
Twenty motorcyclists were killed in traffic last year compared with 16 in 2014. This represents 17 per cent of all traffic fatalities in 2015. The number of pedestrians and cyclists killed in traffic was reduced from 30 in 2014 to 17 last year. Seventy-six of those who died last year were either the driver or a passenger in a car. This represents 65 per cent of the fatalities, compared with 60 per cent in 2014.
Serious lorry accidents
Sixteen people were killed in accidents involving lorries in 2015, compared with 17 in 2014.
Find detailed figures from Road traffic accidents involving personal injury