Content
Fewer on social benefits
Of those who completed the qualification programme, there is a corresponding drop of 8 percentage points in the share going over to social benefits. The share receiving social assistance after the programme shows an increase of 2 percentage points compared with last year. Fewer and fewer are dropping out of the qualification programme.
Qualification benefits (per cent)

| | 2012 | 2013 |
| --- | --- | --- |
| Participants under 20 years | 1 | 1 |
| Participants 20-24 years | 19 | 18 |
| Social assistance as major income 2 months before KVP | 50 | 49 |
| Participants completed programme 31/12 | 29 | 29 |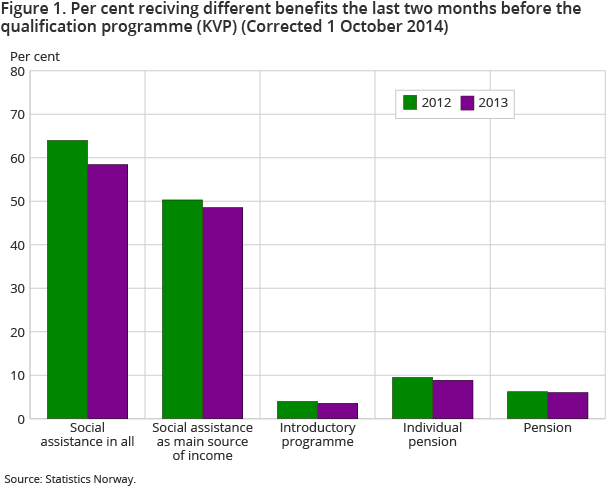 More than 30 per cent of the participants on the qualification programme (KVP) were in the age group 30-39 years, but nearly 19 per cent were under 25 in 2013. Fifty-eight per cent of the participants had social assistance as their major source of income before entering the programme. In 2012, the number was 64 per cent.
Of those who participated in the programme in 2013, 41 per cent came from measures initiated by the state or municipality a week before the registered application for qualification benefit, most often in the form of training/courses or job training. This is a decrease from the previous year's figure of approximately 50 per cent.
As regards the content of the programme, the most common activity for the participants in 2013 was work placements.
Only 4 per cent of the participants in 2013 interrupted their programme due to absence; almost the same as the previous year. Seven per cent interrupted their programme in the county of Møre and Romsdal, and the corresponding figure for Sør-Trøndelag was 0.
Of those who finished the qualification programme in 2013, nearly 30 per cent were dependent on social assistance as the main source of income afterwards. This is a decrease of 2 percentage points from the previous year.
Find detailed tables with time series, and more detailed data in StatBank