Content
This is an archived release.
Fall in manufacturing turnover in the last quarter of 2015
Total manufacturing turnover decreased 3.2 per cent in the fourth quarter compared to the third quarter of 2015. However, a 3.4 per cent increase was recorded from November to December.
Turnover. Percentage change and NOK million
Seasonally adjusted
Calendar adjusted1
Unadjusted
Monthly change
Three-month change
Twelve-month change
NOK million
December 2015 / November 2015
October 2015 - December 2015 / July 2015 - September 2015
December 2015 / December 2014
December 2015
1Adjusted for working-days and for public holidays in Norway.
Extraction, mining, manufacturing and elec
-1.8
-4.5
-14.0
127 804
Extraction and related services
-6.5
-6.6
-20.3
47 372
Mining and quarrying
16.4
-12.3
-12.5
925
Manufacturing
3.4
-3.2
-4.5
67 638
Food, beverages and tobacco
-0.8
2.7
4.4
19 562
Refined petro., chemicals, pharmac.
0.0
1.1
3.6
9 480
Basic metals
-2.2
-9.2
-11.6
4 101
Machinery and equipment
6.0
-6.3
-18.4
7 085
Ships, boats and oil platforms
21.5
-11.7
-7.8
6 372
Electricity, gas and steam
-14.3
-2.9
-30.4
11 869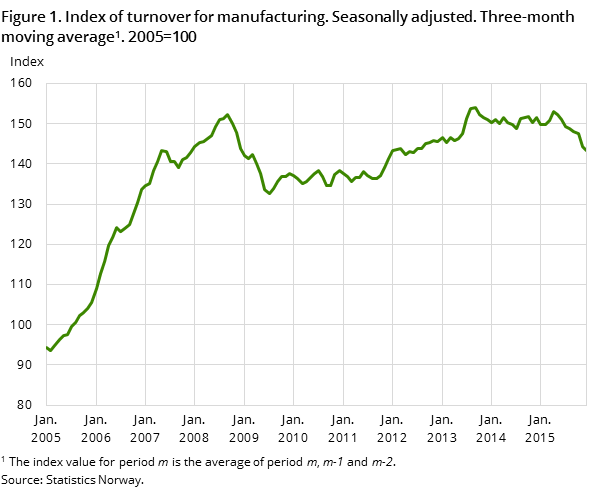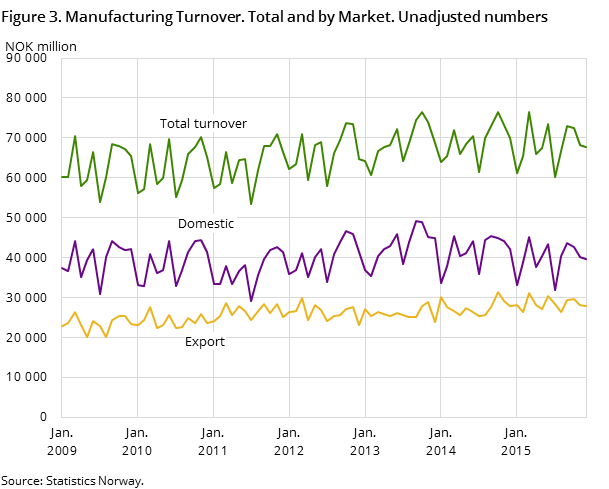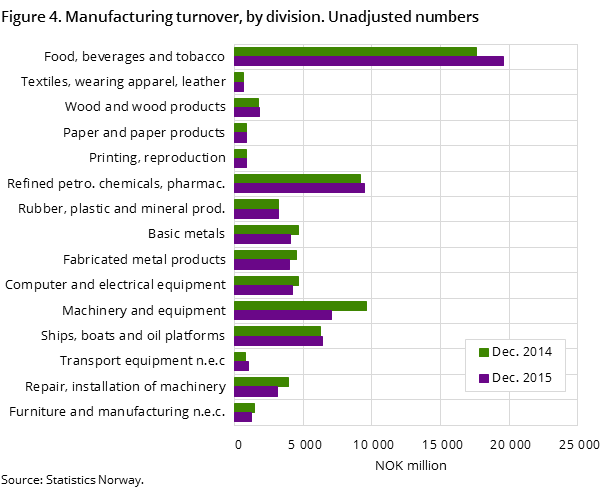 The index value for turnover in manufacturing was 143.4 (2005=100) in the fourth quarter of 2015, compared to 148.1 in the third quarter, according to seasonally-adjusted figures.
Three-month change: decline in building of ships, boats and oil platforms industry
A 3.2 per cent decline in the total turnover is mainly due to the lower activities among the suppliers to the oil and gas sector industries. However, other industries also showed a decline from the third to the last quarter of 2015. The following industries contributed most to the decline:
Building of ship, boats and oil platforms
Machinery and equipment
Basic metals
Repair, installation of machinery
Fabricated metals
Despite the overall reduction in turnover, food products and the grouping refined petroleum, chemical and pharmaceutical industries recorded an increase in this period.
Monthly change: prominent growth for building of ships, boats and oil platforms
Total Norwegian manufacturing turnover went up 3.4 per cent from November to December 2015, according to seasonally-adjusted figures. Although the domestic market showed a positive trend, the export market showed particular growth.
The biggest contributor pulling up total manufacturing turnover was the building of ships, boats and oil platforms industry, which recorded a solid increase of 21.5 per cent. The increase in manufacturing was further enhanced by a 6.0 per cent growth in the turnover for machinery and equipment. The high level of activities among a few leading suppliers within these industries led to this great boost in turnover. Food products accounted for about 27 per cent of total industry turnover, remaining almost unchanged in this period.
Twelve-month change: notable decline for machinery and equipment
Calendar-adjusted figures showed that the total turnover went down 4.5 per cent in December 2015 compared to December 2014. Both the domestic and export market showed a decline, by 6.0 and 2.0 per cent respectively.
With an 18.4 per cent decrease, machinery and equipment was the strongest contributor to the decline. However, a 6.0 per cent growth in the food products curbed the fall in the twelve-month change.
Annual change: reduced turnover in 2015
The turnover in Norwegian manufacturing showed a negative annual change of 1.4 per cent from 2014 to 2015. The growth in the export market was not enough to offset the strong decline in the domestic market. Statistics Norway will publish a separate article regarding annual changes in manufacturing turnover in 2015 on Tuesday, 23 February 2016.
Monthly change: fall in Norway, nearly unchanged in the euro area
Norwegian manufacturing turnover went down 4.4 per cent from October to November 2015, according to seasonally-adjusted figures, while manufacturing turnover in the euro area showed a slight decrease of 0.6 per cent. Among the Nordic countries, Denmark showed a decrease of 0.7 per cent and Sweden remained almost unchanged, according to Eurostat.
Find detailed figures from Turnover in oil and gas, manufacturing, mining and electricity supply
Additional information
The variation in manufacturing turnover can be related to changes in volume and price indices in different industries and also production to stocks and sales from stocks.