Content
This is an archived release.
Growth in industrial turnover
Seasonally-adjusted figures showed that the total turnover in Norwegian manufacturing increased by 4.5 per cent from June to August 2013 compared to the previous three-month period. In addition, seasonally-adjusted figures showed a decrease from July to August.
Turnover. Percentage change and NOK million
Seasonally adjusted
Calendar adjusted1
Unadjusted
Monthly change
Three-month change
Twelve-month change
NOK million
August 2013 / July 2013
June 2013 - August 2013 / March 2013 - May 2013
August 2013 / August 2012
August 2013
1Adjusted for working-days and for public holidays in Norway.
Extraction, mining, manufacturing and elec
-2.2
5.0
3.5
136 673
Extraction and related services
-4.5
6.3
-3.5
56 821
Mining and quarrying
-19.0
-13.3
2.1
1 183
Manufacturing
-0.8
4.5
6.6
69 062
Food, beverages and tobacco
-0.7
2.7
10.4
17 116
Refined petro., chemicals, pharmac.
1.1
3.5
-6.9
12 456
Basic metals
-1.7
-2.1
-9.8
4 239
Machinery and equipment
-5.6
15.5
23.0
6 535
Ships, boats and oil plattforms
-5.6
23.1
26.5
5 231
Electricity, gas and steam
2.7
3.2
34.5
9 606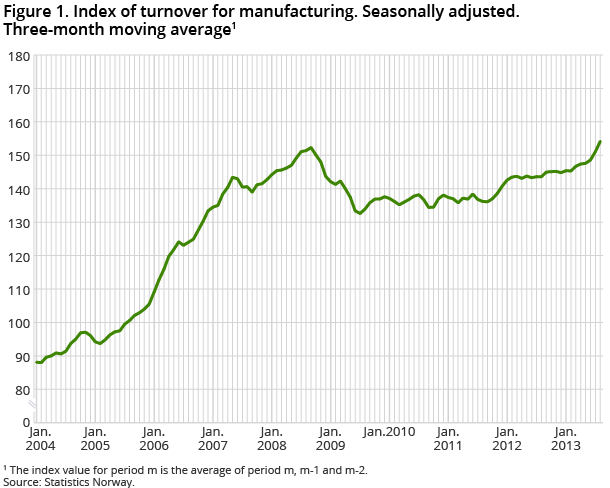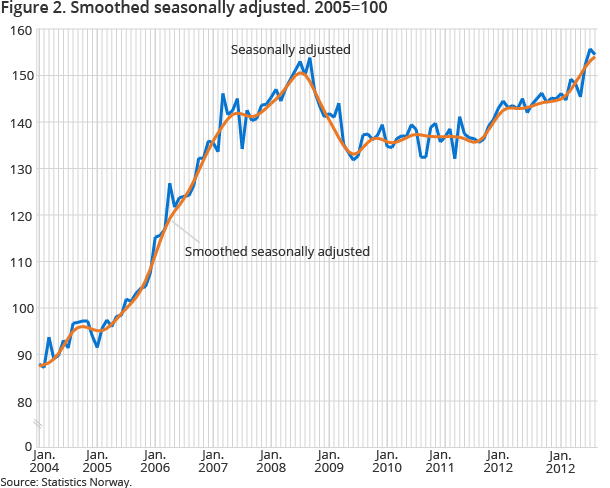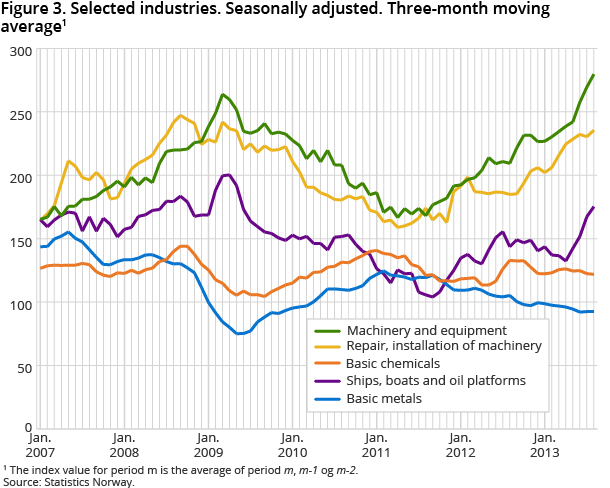 Norwegian manufacturing turnover increased 4.5 per cent in the last three-month period, according to seasonally-adjusted figures. This growth was related to high levels of turnover in June and July, while figures went down for August. Before falling in August, large deliveries within building of ships, boat and oil platforms helped pull up the figures for June and July.
The largest contributors in the last three-month period were building of ships, boat and oil platforms, increasing 23.2 per cent. Machinery and equipment grew by 15.5 per cent due to both higher production volumes and prices. In addition, turnover within food products went up 4.0 per cent. Among industries with a negative turnover were fabricated metals products and basic metals.
Fall in turnover from July to August
Seasonally-adjusted figures showed that total Norwegian manufacturing turnover fell by 0.8 per cent from July to August 2013. Several industries showed a reduced turnover in August. Building of ships, boats and oil platforms fell by 5.6 per cent. This was also the case for Machinery and equipment. Fabricated metals products experienced a price drop and a fall in production volume, which resulted in a 3.8 per cent decrease in turnover for this industry. Meanwhile, food products went down 0.8 per cent.
Conversely, the repair and installation industry increased by 10 per cent. This was also the case for computer and electrical equipment, which grew by 5.6 per cent.
Increase from August 2012 to August 2013
Calendar-adjusted figures showed an increase of 6.5 per cent in total manufacturing turnover in August 2013 compared to August 2012. The domestic market increased as a whole; by 10.2 per cent, while the export market was almost unchanged. The largest increase was for repair and installation, growing by 38.2 per cent. This was followed by solid figures within building of ships, boats and platforms, with a 26.4 per cent increase. Additionally, machinery and equipment saw an increase of 23 per cent. Food products also reported growth in turnover.
On the other hand, the grouping refined petroleum, chemicals and pharmaceuticals fell by 6.9 per cent. Basic metals and wood and wood products dropped 9.7 and 7.4 per cent respectively.
Norway and the euro area
Seasonally-adjusted figures show that Norwegian manufacturing turnover went up 2.2 per cent from June to July 2013. Manufacturing turnover in the euro area went down 0.1 per cent in the same period, according to figures published by Eurostat .
In order to facilitate the interpretation of the short-term development, statistics on turnover publishes three-month moving averages of the seasonally-adjusted figures. We normally compare the latest non-overlapping three-month periods, for instance June to August 2013 compared with March to May 2013. Seasonally-adjusted monthly changes must be interpreted with caution.
Find detailed figures from Turnover in oil and gas, manufacturing, mining and electricity supply
Additional information
The variation in manufacturing turnover can be related to changes in volume and price indices in different industries and also production to stocks and sales from stocks.