Content
This is an archived release.
Almost 2.5 million dwellings
New register-based counts show that there are almost 2.5 million dwellings in Norway. The number of dwellings has increased by almost 30 000 during 2015.
Dwellings (occupied and vacant), by buildingtype and year1
2015
2016
Change
2015 - 2016
1Changes last period are net changes. Some changes may be due to variable lag in registering of new dwellings.
Total
2 446 686
2 476 519
29 833
Detached house
1 197 046
1 204 350
7 304
House with 2 dwellings
211 978
214 766
2 788
Row house, linked house and house with 3 dwellings or more
281 826
286 178
4 352
Multi-dwelling building
557 523
570 482
12 959
Residence for communities
50 191
51 994
1 803
Other building
148 122
148 749
627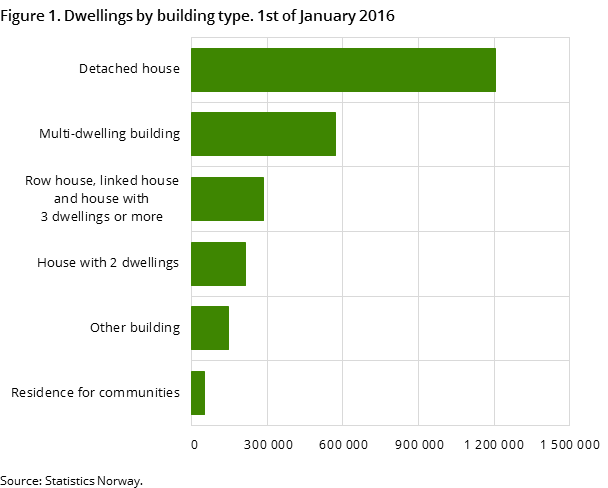 There were a total of 2 476 519 dwellings in Norway as at 1 January 2016. Forty-three per cent of the net increase in dwellings were in the form of flats, with almost 13 000 new flats.
Detached houses on top
Dwelling units can be grouped by type of building. Detached houses constituted almost half (1 204 350). Flats in multi-dwelling buildings follow with 570 482, while there were 286 178 dwellings in row houses, linked houses and houses with three or four dwellings. There were 214 766 dwellings in houses with two dwellings and 51 994 dwellings in residences for communities. The remaining 148 749 dwellings are registered in buildings where the main part of the floor space is used for purposes other than dwelling; mainly industrial buildings.
Both dwelling units and single rooms are counted as dwellings. About 43 per cent of the net increase of dwellings last year was flats.
New figures for 2012, 2013 and 2014
Statistics Norway has revised the method for unit imputation that was introduced after the 2011 round of population and housing census. New figures are published for 2012, 2013 and 2014.
In connection with the population and housing census in 2011, almost 50 00 dwellings were imputes, based on criteria of surplus of household compared with dwellings in a building over time. However, this turned out to have some undesired instability and lack of comparability with the building statistics' figures for building start permits. Statistics Norway has therefore decided not to use this method of imputing dwellings.
However, dwellings are still imputed where the population register indicates that leisure homes are used as whole year residential buildings. The population register is also used to overrule other information, i.e. lack of approval certificate if people are registered living at the address.
The quality of the dwelling statistics is gradually improving each year. Most of the dwellings in buildings with little information are gradually being replaced with new buildings, or new information is available when dwellings are for sale. In addition, the increase in the number of registers used in the production of the statistics also affects the quality.
Find detailed figures for Dwellings