Content
This is an archived release.
Small increase in sickness absence
Sickness absence adjusted for seasonal and influenza variations was 6.6 per cent in the 3rd quarter of 2014; a small increase from 6.5 per cent from the last quarter.
Sickness absence man-days for employees 16-69 years in per cent of contractual man-days, by type of absence and sex. Seasonal- and influenza adjusted1
3rd quarter 2014
Per cent from previous quarter
1The sickness absence rates are shown to two decimal points. In other tables the rates are shown with one decimal point. More decimal points are used when calculating the rates of change in order to get more accurate figures. These will therefore differ slightly from the rates of change produced when using the published rounded figures.
Both sexes
Self-certified and certified by doctor
6.59
1.6
Self-certified
1.09
9.2
Certified by doctor
5.50
0.3
Males
Self-certified and certified by doctor
5.10
1.9
Self-certified
0.94
8.1
Certified by doctor
4.15
0.6
Females
Self-certified and certified by doctor
8.45
1.4
Self-certified
1.27
10.2
Certified by doctor
7.18
0.0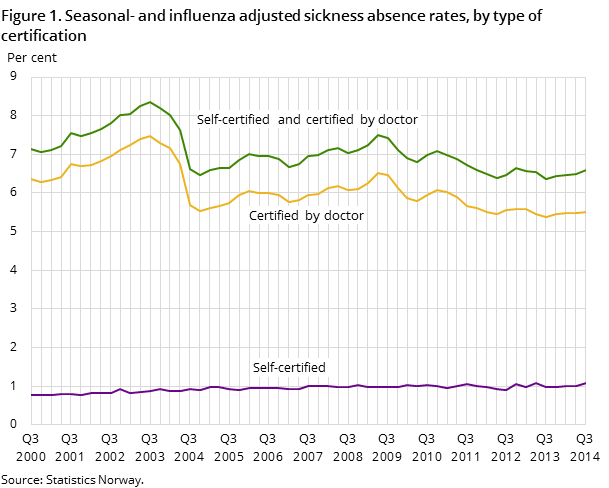 Sickness absence for both men and women rose last quarter. For men it increased from 5.0 to 5.1 per cent. For women it rose from 8.3 to 8.4 per cent. This corresponds to percentage increases of 1.9 and 1.4 respectively.
Since the 2nd quarter of 2001, when the agreement on an inclusive labour market, the IA agreement, was first implemented, the seasonal and influenza-adjusted sickness absence has dropped from 7.2 per cent; a decrease of 8.7 per cent.
Find detailed figures for Sickness absence