Content
This is an archived release.
Pilot strike causes drop in domestic traffic
The pilot strike in February and March caused domestic traffic in the first quarter of 2015 to contract year-on-year. The number of passengers on international flights was stable.
Norwegian airports, main figures1
1st quarter 2015
Per cent change since
1st quarter 2014
1st quarter 2012
1st quarter 2010
1Includes all commercial flights.
2Only data from departure is included.
Domestic and international flights
Total passengers on board at departure and arrival
11 851 467
-2.4
2.4
19.9
Domestic flights2
Passengers on board at departure
3 707 640
-3.9
-3.1
13.1
Seats
6 386 969
-4.6
-3.1
8.9
Aircraft movements
67 386
-5.7
-5.0
3.4
International flights
Total passengers on board at departure and arrival
4 434 893
0.3
13.2
33.1
Seats
6 856 218
-4.0
6.5
19.1
Aircraft movements
44 803
-7.1
-0.6
8.3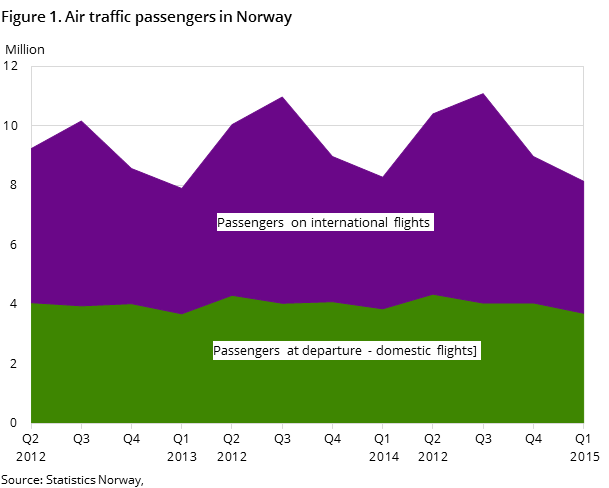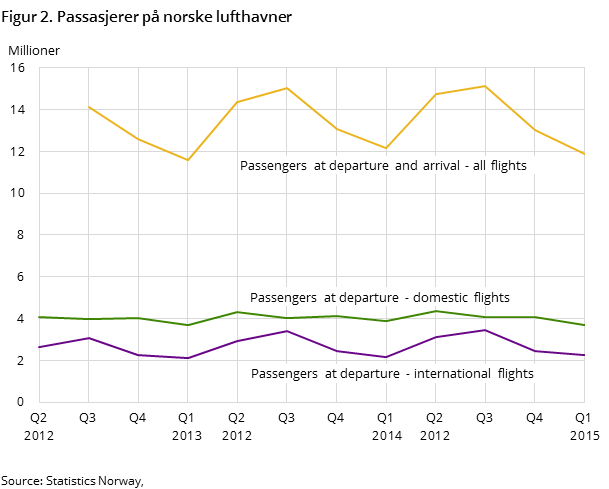 At 3.7 million passengers, domestic traffic is down by 150 000 year-on-year in the first quarter of 2015. Most of the reduction in traffic, however, is found in January, before the strike. There were 4.4 million passengers on board flights to and from Norway during the quarter. This is about the same as in the first quarter in the previous year.
Bergen most affected
The reduced domestic traffic was most evident in Bergen, where in the first quarter of 2015 the number of passengers fell year-on-year by as much as 80 000. International traffic also suffered in Bergen, with a 28 000 drop in passengers arriving and departing on international flights. The total number of terminal passengers in Bergen was 1.3 million in the first quarter of 2015.
International traffic varies between airports
Other airports saw reductions in international traffic. Moss (Rygge Airport) saw a drop in international traffic by 21 000, while Bodø and Kristiansand dropped by about 6 500 passengers quarter to quarter. Oslo Airport Gardermoen balanced out the national figure, with an increase of 72 000 passengers on international flights.
Find detailed figures from Air transport