Content
Increased value added in information sector
The value added in the information sector rose by almost 6 per cent in 2012 to around NOK 105 billion. Employment also increased from 2011, and during 2012 there were almost 102 000 employed in the sector. This is 1 300 persons and over 1 per cent more than in 2011.
Information sector, business statistics
2012
Change in per cent
2011 - 2012
Employment
101 857
1.3
Turnover (mill. NOK)
256 283
1.3
Value added (mill. NOK)
104 637
5.8
Number of enterprises
16 401
3.0
Gross investments (mill. NOK)
9 389.0
11.4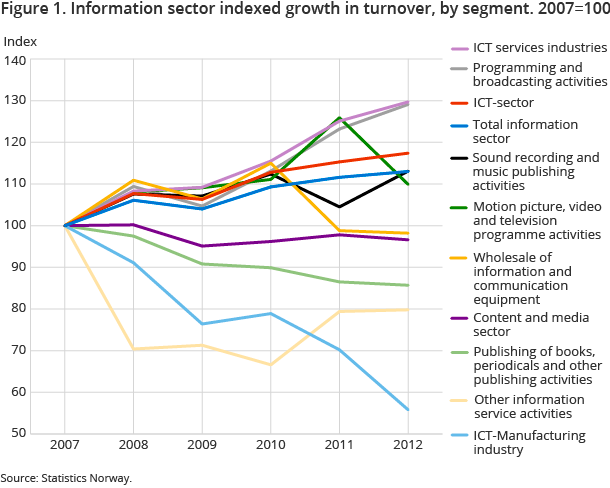 The information sector is made up of the ICT sector and the Content and Media sector. Measured by value added , the ICT sector is the bigger of the two, with NOK 86 billion. The turnover in this sector grew by 1.9 per cent from 2011 to NOK 210 billion in 2012; an increase of nearly NOK 4 billion. The gross operating surplus rose by as much as 11.4 per cent in 2012, and was over NOK 31 billion.
'

ICT services

industries'

contributed

most to

increase in employment
'ICT service industries' is the largest segment in the ICT sector, and its turnover increased by 3.7 per cent, or NOK 5.8 billion, giving a total of NOK 163 billion in 2012. Employment increased by around 1 900 persons in 2012 to around 65 500, and this segment stood for nearly all of the increase in employment in the information sector.
Mild decrease in the content and media sector
Even though 2012 was a good year for the ICT sector, it was not such a good year for the content and media sector. The total turnover in the sector went down by around NOK 600 million to NOK 46.4 billion; a decrease of 1.3 per cent. Value added is also lower in 2012 than in 2011, and went down 2.5 per cent to NOK 18.9 billion.
Good year for programming and broadcasting activities segment
Not every segment in the content and media sector had a decline in 2012. The programming and broadcasting activities segment in particular had a good year, with an increase in turnover of NOK 500 million. This was an increase of 4.8 per cent to a total of almost NOK 11 billion. The value added of NOK 5.3 billion was 5.9 per cent and NOK 300 million higher than in 2011.
Find detailed tables with time series, and more detailed data in StatBank