Content
Decrease in value added in forestry
In 2012, the value added in forestry is estimated at NOK 4.6 billion; a decrease of 13 per cent from 2012.
Aggregate account of forestry, logging and related service activities.
NOK million
NOK million
Change in per cent
2011
2012
2011 - 2012
Output in forestry
7 950
7 350
-7.5
Initermediate consumption in forestry
2 647
2 756
4.1
Investment work carried out by use of own production factors, total
5 304
4 594
-13.4
¬ Operating surplus in forestry
3 347
2 502
-25.2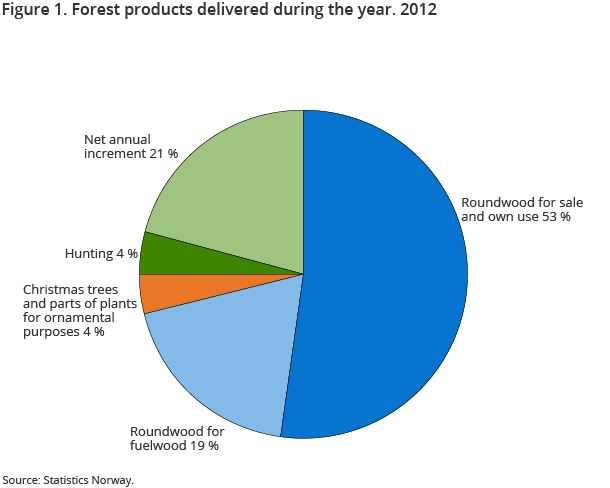 The decrease in value added is mostly due to lower timber prices in 2012. In total, the forestry industry delivered forest products and services amounting to NOK 7.4 billion last year. Timber for sale is the largest item in the forest account. In 2012, the aggregated gross value of industrial roundwood and timber consumed by forest owners totalled NOK 2.9 billion; a decrease of NOK 110 million from 2011. Harvested fuel wood amounted to NOK 1 billion; an increase of NOK 100 million from the year before. Fuel wood consumption in households increased by 10 per cent compared to 2011.
The forestry industry purchased goods and services from forestry-related service industries for a total of NOK 1.7 billion in 2012.
Find detailed tables with time series, and more detailed data in StatBank
Additional information
The aggregate account of forestry is based on the National Account guidelines. However, there are still some minor discrepancies from the value added for primary forestry in the National Account.