Content
This is an archived release.
Switzerland and Norway most expensive
Newly released calculations of price levels in European countries showed that EFTA countries Switzerland and Norway had the highest price levels in Europe in 2014. The Norwegian price level for alcohol and tobacco was particularly high, while electricity prices on the other hand were below the European average.
Price levels for goods and services. Selected countries. Indices. EU28=1001
2014
1Source: Eurostat
Norway
148
Iceland
117
Sweden
125
Denmark
138
Finland
123
France
108
Italy
102
Poland
56
United Kingdom
122
Germany
102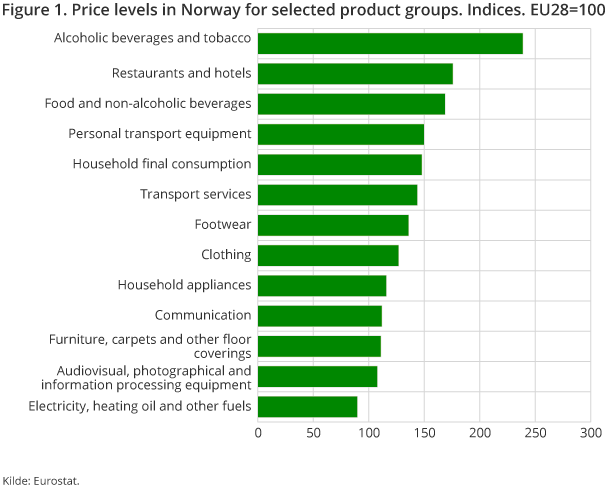 Norway's price level for Household Final Consumption expenditure (HFCE) was 48 per cent above the average price level of the 28 EU countries in 2014. The corresponding figure for Switzerland was 54 per cent, while Denmark, Sweden and Finland had price levels of 38, 25 and 23 per cent above the EU28 average respectively.
Northwest European countries most expensive, lowest prices in southeast
Clear geographical divisions are visible in price levels among the European countries. Countries in northwest Europe, including the Nordic countries, United Kingdom, Ireland, the BeNeLux countries and Switzerland, had the highest price levels. In the middle, we find France and countries in Central and Southern Europe, while price levels are decidedly lowest in east and southeast, and especially in the Balkans. In 2014, Macedonia, Bulgaria and Albania were the cheapest countries in Europe in relative terms, with a price level for HFCE of about one third compared to the Norwegian price level.
Norwegian electricity prices below EU28 average
Norway is Europe's second most expensive country for goods and services seen as a whole. However, this is not the case for all underlying categories. For isolated groups of goods and services, the Norwegian price level is closer to the European average. This pertains to the group "Electricity, heating oil and other fuels", where the Norwegian price level is actually below the EU28 average. For the product groups "Audiovisual, photographical and information processing equipment" and "Furniture, carpets and other floor coverings", the Norwegian price level is slightly above EU28.
Particularly high Norwegian price level for alcohol and tobacco
Three groups of goods and services stand out with a particularly high Norwegian price level. This concerns alcohol and tobacco in particular, for which the Norwegian price level is almost 2.5 times higher than the European average. Restaurant and hotel services and food and non-alcoholic beverages are also especially high for Norway.
Balkan countries with the lowest prices for restaurant and hotel services
Macedonia, Albania, Bulgaria and Serbia had Europe's lowest prices for restaurant and hotel services in 2014. The price levels for these kinds of services in these countries are about a quarter of the level of Norway. Amongst Norwegians' most popular holiday destinations, Turkey and Portugal have the lowest price levels; almost 60 per cent below the Norwegian level. The price level of Greece and Spain is about half the Norwegian level, while France, United Kingdom and Italy are 35-40 per cent lower. Restaurant and hotel prices in Finland, Sweden and Denmark are 27, 22 and 17 per cent below the Norwegian level respectively.
Find detailed figures for Price level for consumer goods and services