Statistical analyses 109
Norway
Natural resources and the environment 2008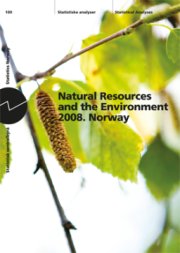 Statistics Norway compiles statistics on important natural resources and environmental issues, and develops methods and models for analysing trends in the extraction and use of natural resources and changes in the state of the environment, focusing particularly on relationships between these factors and other socio-economic developments. The annual publication Natural Resources and the Environment gives an overview of this work.
An important objective is to ensure that this publication presents the environmental situation so that it can be readily understood while at the same time including considerable detail. Natural Resources and the Environment 2008 starts with a presentation of updated national indicators for sustainable development. This is followed by detailed descriptions of Norway's natural resources and various environmental problems, including both statistics and analyses. A separate section presents selected research projects.
This year, a free booklet is being published as a supplement to the full report. Guide to Environment Statistics 2008 presents central statistics in figures and tables.
About the publication
Contact
Statistics Norway's Information Centre