Hazardous waste still on the rise
A total of 1.41 million tonnes of hazardous waste were sent for approved treatment in 2015 – an increase of around 75 per cent compared to 2003. In comparison, gross domestic product (GDP) and the population has only increased by 21 and 14 per cent respectively in the same time period.
Thus, the general trend is that hazardous waste sent to approved treatment is relatively high compared to the growth in the economy and population in general.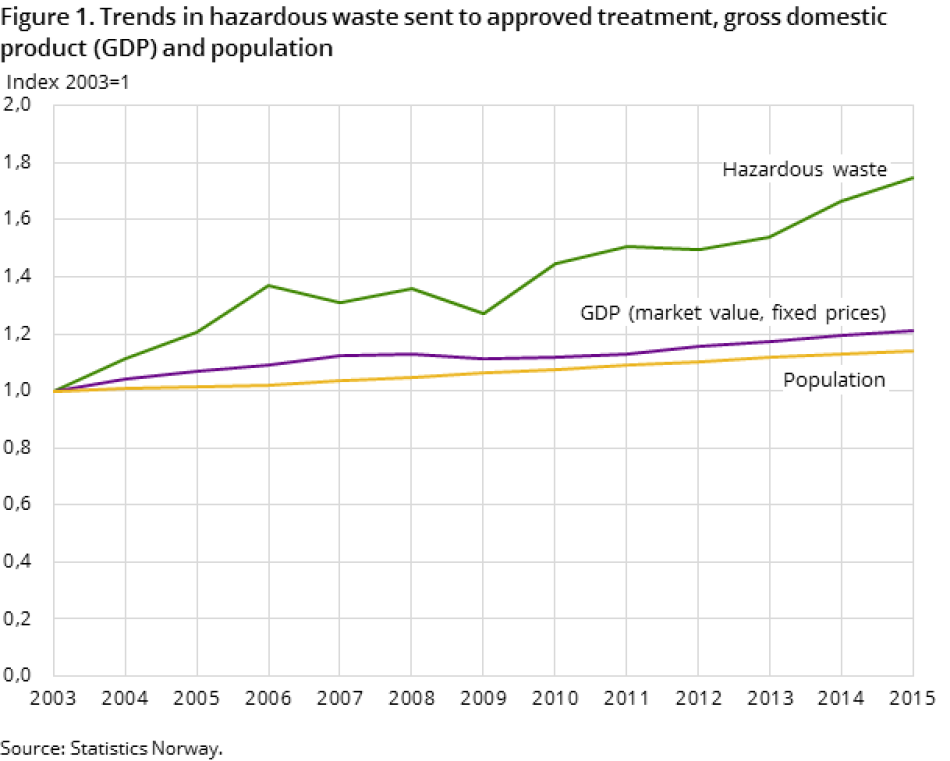 Unknown treatment in 2015 is "unknown"
Hazardous waste contains both health and environmentally hazardous substances. Thus, it is important to ensure that as much as possible of the hazardous waste is subject to proper treatment in order to avoid harming people's health and the environment.
In addition to the 1.41 million tonnes to approved treatment, there will normally also be some hazardous waste that goes to unknown treatment. However, Statistics Norway has decided not to publish 2015 data yet, as the methodology is under revision and will be updated.
Oil and heavy metal-containing waste dominate
In 2015, oil-containing waste was the dominant group of hazardous waste, with around 510 000 tonnes sent to approved treatment. The next biggest group was heavy metal-containing waste, constituting around 470 000 tonnes.
Oil-containing waste mostly encompasses waste from oil drilling activities on the Norwegian shelf, while heavy metal-containing waste consists of metal hydroxyl sludge, slag, dust and ashes from the manufacturing industry, as well as CCA-impregnated wood, batteries and used sand from grit blasting.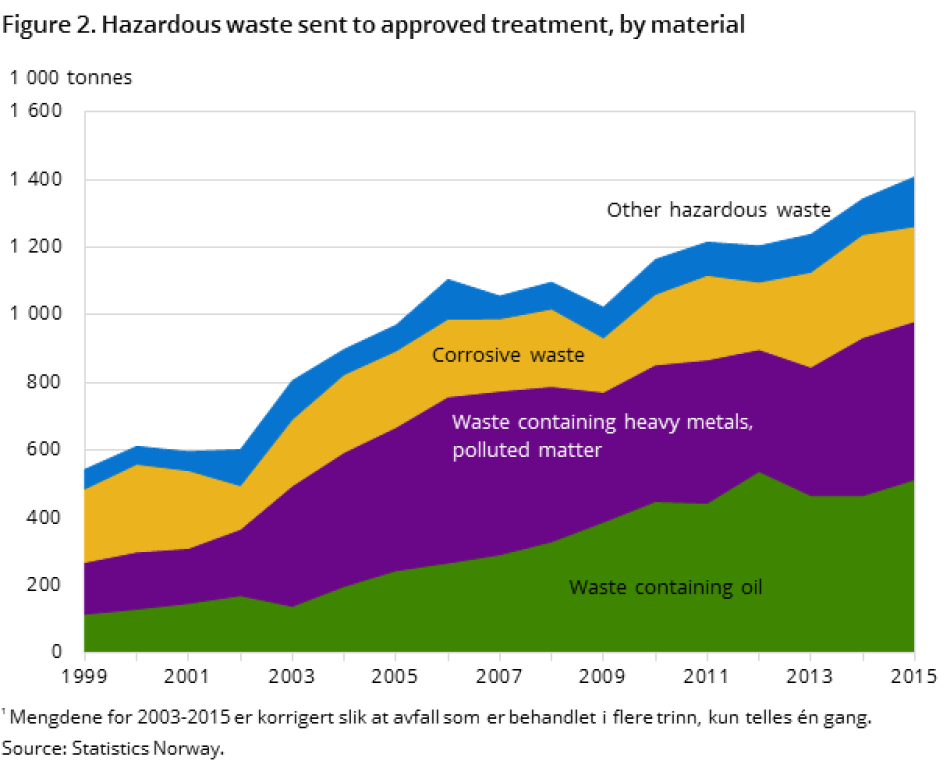 31 per cent to recovery
Around 31 per cent of the approved waste treatment was recovered, i.e. either recycled (14 per cent) or energy recovered (17 per cent). The remaining 69 per cent was disposed of.
Hazardous waste exports are included in the 1.41 million tonnes to approved treatment, but imported amounts are not. Thus, the figures on approved treatment comprise only hazardous waste generated in Norway.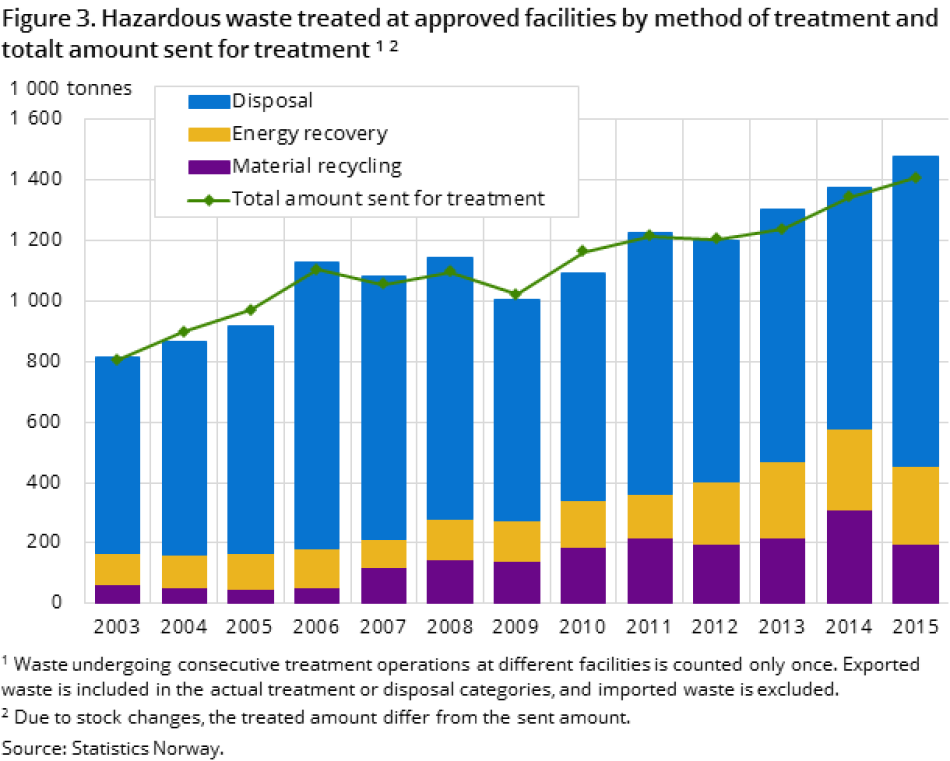 540 000 tonnes from manufacturing
Manufacturing industries sent 540 000 tonnes of hazardous waste for approved treatment in 2015, including treatment in their own facilities. This makes up around 38 per cent of all hazardous waste in Norway that year. Another main contributor – with almost 330 000 tonnes – is the mining and quarrying industry, which includes oil extraction activities.
It has been estimated that households accounted for around 47 000 tonnes of hazardous waste sent for approved treatment in 2015 (based on declarations of hazardous waste). On average, this constitutes around 9 kilo per person. Impregnated wood, paint residues and waste oil constitute the main components.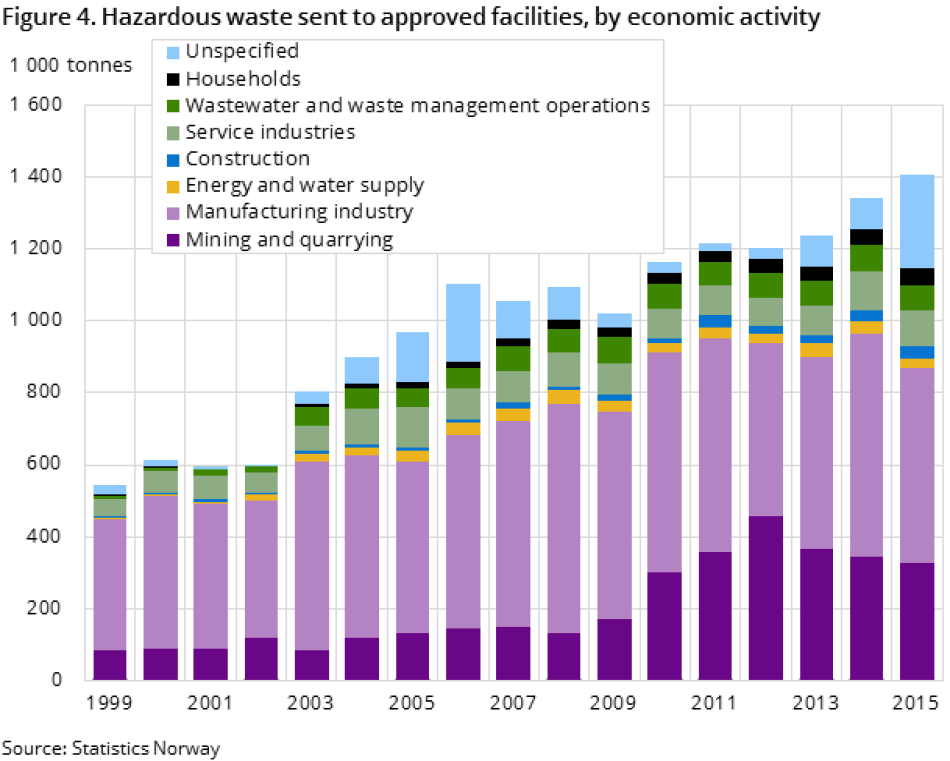 Export of hazardous waste decreased 22 per cent
After several years of growing hazardous waste exports, Norway had almost a 22 per cent decrease in exported amounts in 2015 compared to the year before, with an export of 220 000 tonnes. Simultaneously, Norway imported 260 000 tonnes of hazardous waste from abroad; up 48 per cent compared to the year before.
Imports are dominated by waste containing heavy metals destined for landfilling in Norway, but also in part used oil for incineration. Exports, on the other side, are mainly made up of various types of oil-containing hazardous waste, process water and heavy metal-containing waste. Import and export of hazardous waste requires approval from the authorities in order to ensure proper treatment in the receiving country.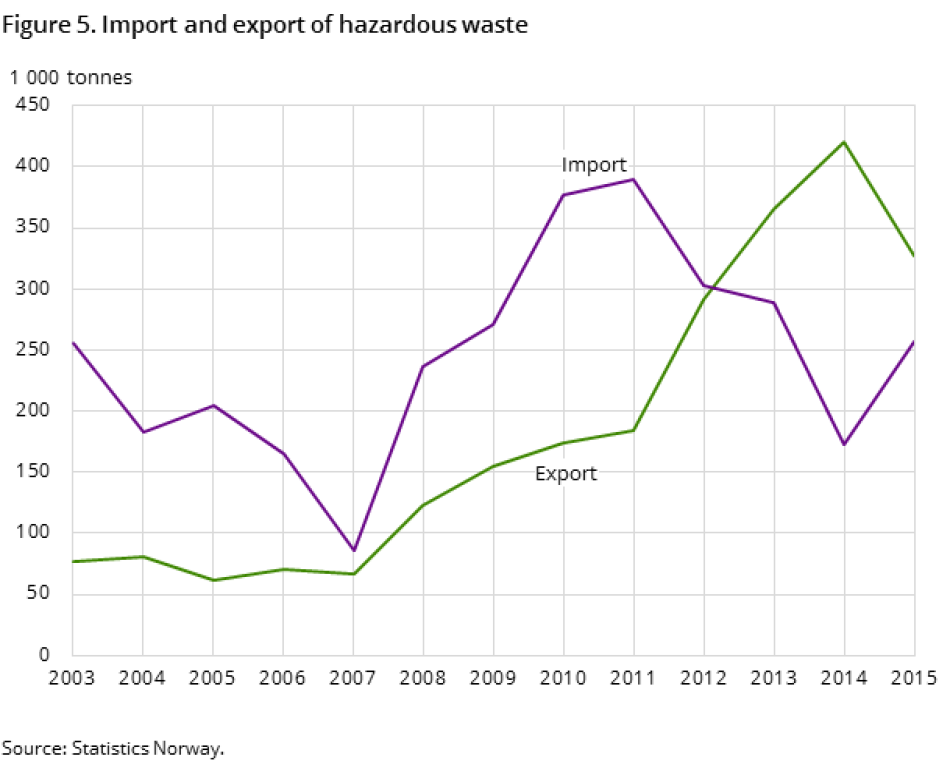 Less hazardous waste from Svalbard
The amount of hazardous waste from Svalbard varies from year to year. In recent years, between 100 and 300 tonnes of hazardous waste have been sent annually for approved treatment. In 2015, the amount originating from Svalbard was 120 tonnes, a reduction of 28 per cent compared to the year before. Hazardous waste from the island is transported to the mainland for treatment there. Oil-containing waste constituted almost 77 per cent of all hazardous waste from Svalbard.