Content
This is an archived release.
Table 09785 in the Statbank and table 16 were corrected at 9 September at 2:00 pm.
GDP growth adjusted by 0.3 percentage points
Final figures for 2013 show a GDP growth of 1.0 per cent. This is an upward revision of 0.3 percentage points from previous estimates. The GDP for Mainland Norway is unchanged since previously published, and had a growth of 2.3 per cent.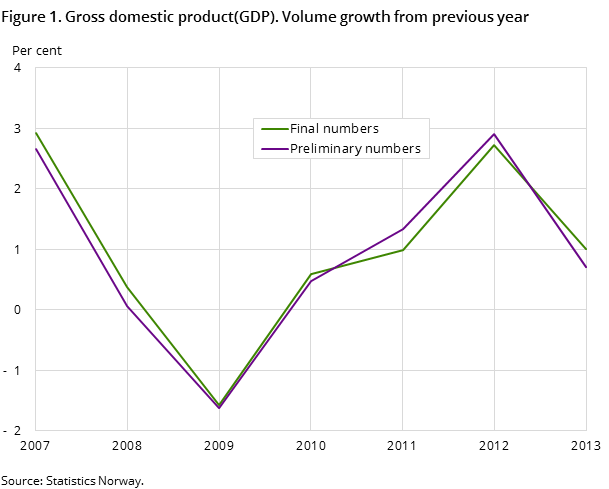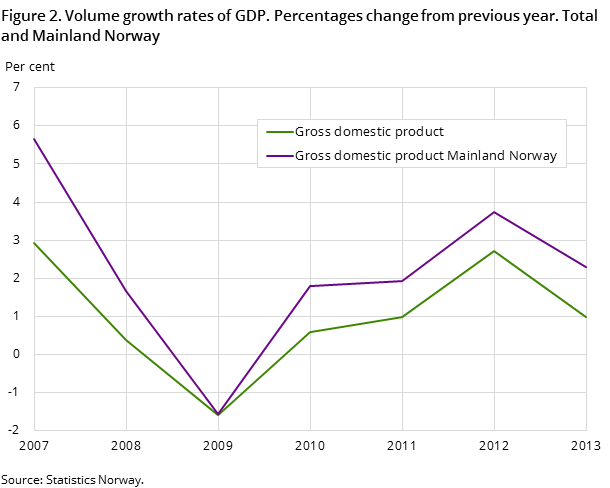 The upward revision of GDP is caused by less negative growth in oil and gas extraction. The preliminary data showed a growth of minus 4.9 per cent, but the final figures show a growth of minus 3.7. Since 2002, the growth in GDP has been weaker than the growth in GDP Mainland Norway.
Even if the growth in Mainland Norway is not revised from the preliminary data, there have been changes internally between industries. Production of other goods is revised down by 2.4 percentage points to a growth of 0.1 per cent, which is mostly due to a revision of aquaculture and construction. Service activities are revised up by 1.1 percentage point to a growth of 3.4. The main contributors to this revision is postal and courier activities, and warehouse and support activities for transportation. Manufacturing is unchanged from the preliminary figures and had a growth of 3.4 per cent in 2013. See the revisions in a separate table.
Household consumption is adjusted upward
Household consumption had a volume growth of 2.6 per cent in the final figures compared to 2.1 in previous figures. Households' consumption of goods and services have both been revised slightly upward, but households' direct purchases abroad have been revised up from 7.8 to 10.1 per cent.
Gross fixed capital formation for ocean transport shows less growth in the final figures than the preliminary figures. Gross fixed capital formation for ocean transport has been downward adjusted by NOK 8 billion. Overall, gross fixed capital formation had a growth of 6.3 per cent in 2013, which is a revision of 0.5 percentage points. For 2013, total volume of export decreased by 2.1 per cent, which is a revision of 0.9 percentage points. Import is revised by 0.6 percentage points to a growth of 4.9.
Statistics Norway has made a main revision to the national accounts. The first results from this revision were published on 20 November 2014. The revisions are partly due to new international recommendations on national accounting and partly the results of improved methods of estimations and new sources.
For more information about definitions of the main concepts, variables and classifications in national accounts, see About the statistics, definitions.
There has been a tradition in Norway to publish annual national accounts figures (ANA) together with the publishing of the 3rd quarter in the Quarterly National Accounts (QNA). Eurostat requires reporting of annual figures within 21 months after the calculation year. To meet this requirement Statistics Norway has decided to publish annual accounts in September, while updated preliminary annual data for 2014 and harmonised quarterly data with the annual data for 2013 will be published in November, together with new quarterly data for 2015.
Additional information
Special tables for experienced users: