Content
This is an archived release.
One in three patients receiving emergency care treated for respiratory diseases and injuries
Seventeen per cent of the population consulted the emergency primary health care in Norway in 2014. A larger share consulted a general practitioner (GP); almost 70 per cent. Mental health problems are the most common reason for consulting a regular GP, while respiratory diseases are the most frequent reason for consulting an emergency primary health care unit.
Consultations at a general practitioner (GP) or in emergency primary health care during the year, by age groups
2014
General practitioner (GP)
Emergency primary health care
Share of persons
Consultations per person
Share of persons
Consultations per person
All ages
69
2.6
17
0.26
0-5 years
65
1.7
31
0.55
6-15 years
54
1.2
16
0.21
16-19 years
64
1.6
20
0.29
20-29 years
63
2.2
20
0.30
30-49 years
68
2.6
15
0.21
50-66 years
76
3.2
14
0.19
67-79 years
85
4.2
16
0.23
80-89 years
83
5.2
22
0.36
90 years or older
60
3.3
22
0.36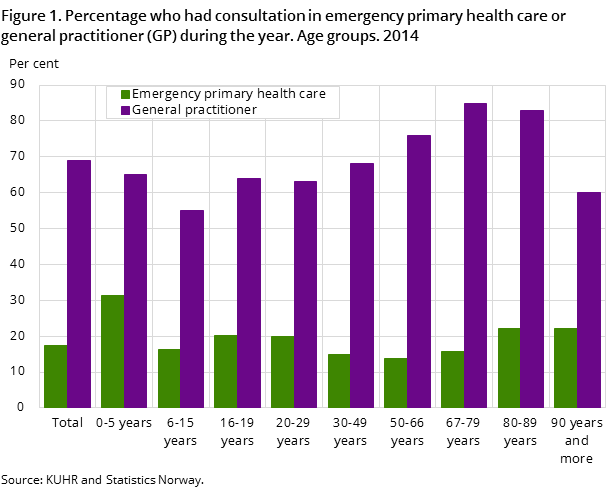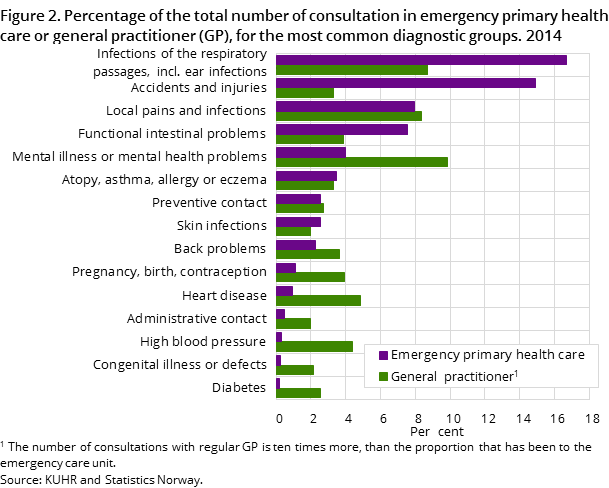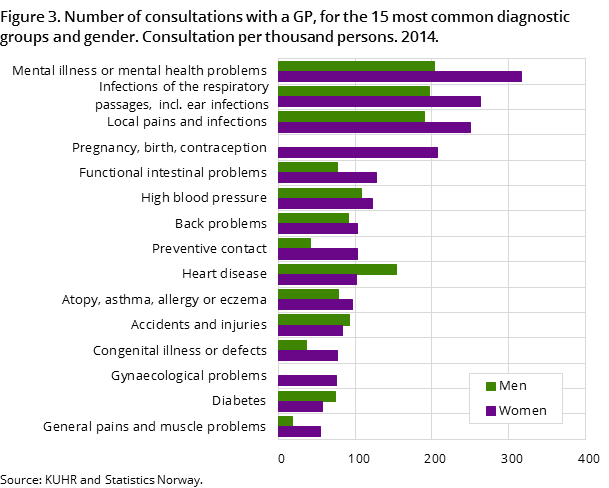 In total, there were 13.8 million consultations with a GP in 2014. The total number of consultations at emergency care units was 1.36 million. This means that we consult our GP ten times more often than we consult emergency care units.
Children most frequent users of emergency care
One in three children under the age of 5 had a consultation at an emergency care unit in 2014. These children make up the group of the population with the most frequent use of such health services. The second largest share is for persons aged 80 years or older, where one in five consulted an emergency care unit.
With regard to consultations with a GP, persons aged 67-79 are the most frequent users; 85 per cent in this age group consulted his or her GP in 2014. Children aged 6-15 are the most infrequent users; with only half consulting their GP. On average, people consult their GP 2.6 times per year. Women have slightly more visits (3.1) than men (2.2).
Which illnesses make us consult our GP, and which make us consult emergency care?
As figure 2 shows, the reasons for consulting a GP often differ from the reasons for consulting an emergency care unit. Mental health problems, respiratory diseases and local pains and infections are the three diagnosis groups that most often lead to a GP consultation. Respiratory diseases and accidents are the most frequent causes for consulting an emergency care unit. Seventeen per cent of the emergency patients were treated for a respiratory disease (incl. ear infections). Slightly fewer were treated for accidents or injuries.
Mental health problems more common among women
Women consult their GP more often than men. Seventy-five per cent of the female population consulted their GP in 2014. With a few exceptions, women have more consultations in all diagnosis groups than men, as shown in figure 3. The largest gender disparities are for mental health problems, respiratory diseases and local pains and infections, where women are in the majority. The exceptions are heart diseases, accidents and diabetes.
Pregnancy, birth and family planning are some reasons why women more frequently visit their GP. Women also more often have preventive consultations, such as health examinations and screening for cervical cancer.
All diagnoses are coded according to the ICPC-2 standard. Statistics Norway publishes two different diagnosis tables in StatBank; one that has grouped together common diseases/ailments into 20 diagnostic groups and one that shows diagnoses in line with the chapters in the ICPC-2 standard. Both tables are based on the main diagnosis, i.e. what is considered the most important diagnosis/reason for a doctor visit. Secondary diagnosis is thus not included in the statistical basis.
All municipalities are required to provide emergency primary health care services. This entails, among other things, 24-hour emergency telephone cover and a doctor on duty who will provide urgent assistance to anyone living in or located in the municipality (cf. Act relating to the municipal health services of 1984). Many municipalities have chosen to work together, and almost 80 per cent of municipalities have some form of inter-municipal cooperation on emergency primary health care, especially in the evening and at night. Read more in; About the statistics.
Find detailed figures for GPs and emergency primary health care