Content
This is an archived release.
Decline in deaths in 2004
There has been a decrease in deaths in 2004 as compared to 2003. The main reason for this is the decline in death from circulatory diseases. About 41 000 deaths occurred in 2004, showing a decline of approximately 1000 in 2003.
Of all the deaths in 2004, 38 702 were due to diseases, while 2 555 died of external causes. There were 20 025 men and 21 232 women that died in 2004.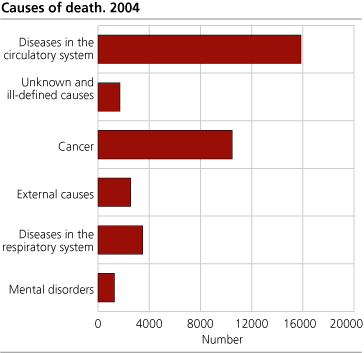 Decrease in circulatory diseases
Decline in total mortality was mainly because of the decrease in death from circulatory diseases, especially in ischaemic heart - and cerebrovascular diseases. There was a marked decline in the age group over 80 years. The death due to circulatory diseases were 15 862 in 2004, while they were
16 623 deaths in 2003.
Malignant neoplasms
Deaths due to malignant neoplasm were 10489 in 2004. This was more or less the same for previous years. The most common causes of malignant neoplasms among men are lung-, prostate- and colon and rectum cancer. As for women, the most frequent causes of malignant cancer -deaths are colon and rectum cancer, lung cancer and breast cancer. Over the past 25 years, there has been a small decline in deaths resulting from cancer.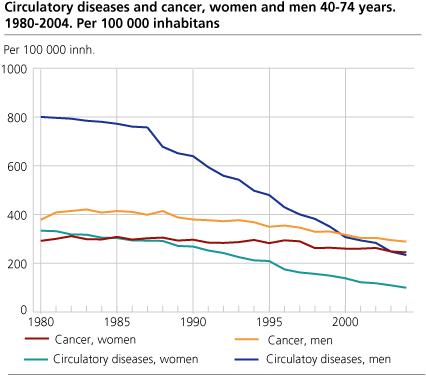 Fall and Intentional self-harm
There were 2 555 deaths caused by external causes. Almost half of these deaths were falls and suicides. Persons aged 70 years or more dominate the falling accidents, while there were most deaths in the age-group 40-49 years as a result of suicides. There was an increase in suicides among women, but not for men. There were 170 deaths caused by suicides among women in 2004, while 128 in 2003. Yet, suicides among men have always been on a higher level than among women.
738 deaths were due to intoxications and transport accidents in 2004.
The Tsunami disaster in South-East Asia caused 82 deaths in 2004.
Senility as cause of death
About four per cent of all deaths registered in the period 1996-2004 are classified with an ill-defined cause of death, for example senility and unspecified heart failure. There is increasing use of ill-defined conditions in higher age groups.
The condition "senility" is used in approximately two per cent of the death cases among men, while it is used in about six per cent of the cases among women. There is increasing use of the terms unspecified heart failure, unspecified renal failure and dehydration.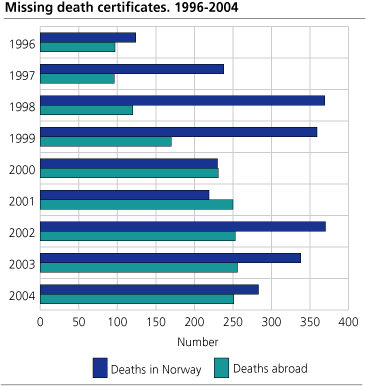 Mortality during first year of living
In 2002 and 2003 respectively 186 and 197 children died in their first year of living. In 2004 it is the same level of deaths, in total 187 children died before their first birthday. 19 children died in cot death in 2004, 14 of them during their first year of living.
Collection letter
The public health officers in the municipalities submit the death certificate to Statistics Norway. SSB has to send reminder two or three times a year to collect them all. In 1996 Statistics Norway had to send 500 collection letters to ask for missing death certificates, in 2004 letters requesting for missing death certificates were 2550. In spite of doing this, the cause of death statistics still have about 300 deaths without a death certificate every year. Deaths that occur from abroad are not being counted in the "missing" statistics.
Tables
Find detailed tables with time series, and more detailed data in StatBank