Content
This is an archived release.
Decreased sales in August
Total sales of petroleum products amounted to 777 million litres, an 11 million litres decrease compared to august in 2015. Sales of gasoline decreased by 6 million litres and ended at 115 million litres. Sales of diesel amounted to 281, an 11 million litres increase.
Deliveries and prices petroleum products, million litres and NOK. Preliminary figures12
August 2016
August 2015
Change in per cent
August 2015 - August 2016
1Gasoline unleaded 98 octane
2Prices are average retail prices collected by the Consumers Price Index. Prices including taxes and fees.
3Dutiable auto diesel
Total sales of petroleum products
777
788
-1.4
Motor gasoline
110
116
-5.2
Auto diesel, dutiable3
281
267
5.2
Auto diesel, price
11.64
11.90
-2.2
Auto gasoline, price
13.63
14.35
-5.0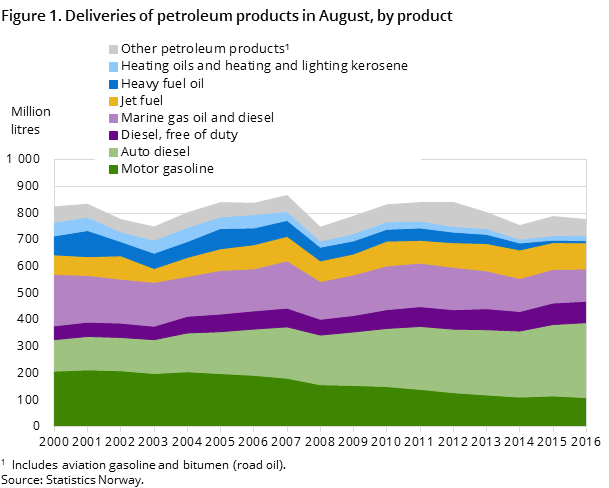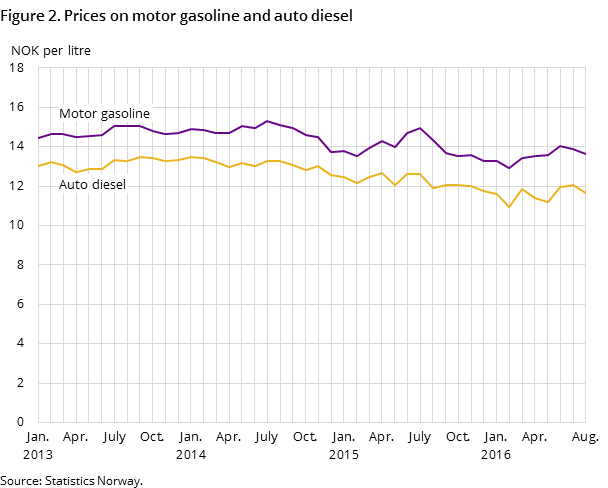 From in August 2016, the product classification in the monthly statistics for sales of petroleum products, has changed.
Table 1 was previously published with figures for sales of all diesels, now only Auto diesel, dutiable is published in this table.
In Table 2 diesel has been split into auto diesel, dutiable and auto diesel, free of duty. Kerosene products are split into jet fuel and heating and lighting kerosene. Heavy distillate and heavy oil are combined and marine gas oils and light heating oils are now separate products.
Figures for sales of lubricants and LPG are only available in the annual statistics for the sale of petroleum products.
Find detailed figures for Sales of petroleum products