Content
This is an archived release.
Decrease in total sales of petroleum products
Total sales of petroleum products amounted to 639 million litres in March, 38 million litres less than in March 2015. The decrease is due to the fact that Easter was in March, which resulted in fewer delivery days compared with March 2015.
Deliveries and prices petroleum products, million litres and NOK. Preliminary figures
March 2016
March 2015
Change in per cent
March 2015 - March 2016
Total sales of petroleum products
639
677
-5.6
Motor gasoline
91
97
-6.2
Auto diesel
312
314
-0.6
Auto diesel, price
11.86
12.47
-4.9
Auto gasoline, price
13.41
13.95
-3.9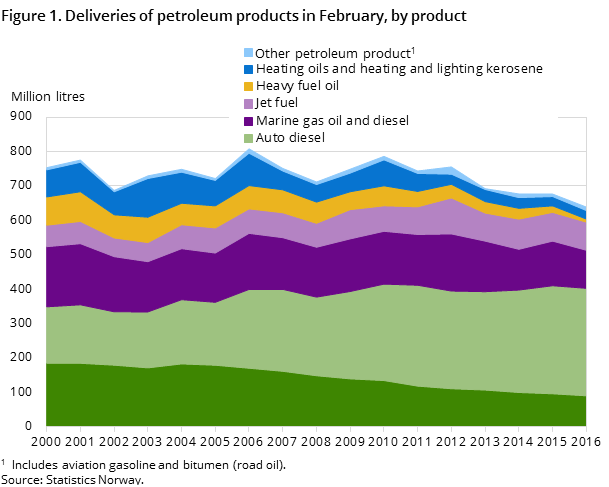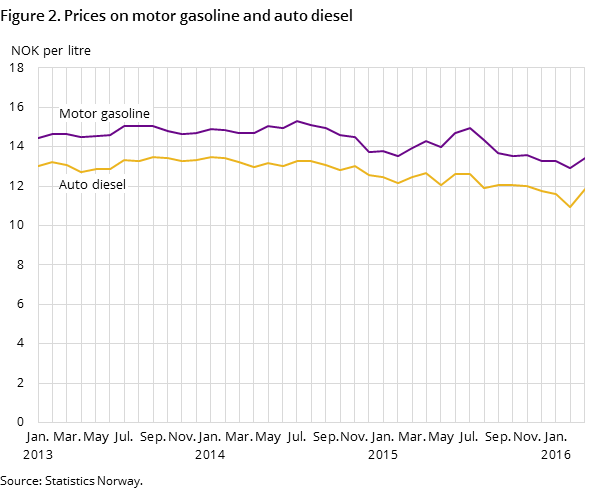 The diesel figure includes auto diesel and diesel, not dutiable, and combined, total sales decreased by two million liters. Looking at the products separately, sales of auto diesel increased by about 1.5 million litres, while sales of diesel, not dutiable decreased by approximately 3.5 million litres.
Find detailed figures for Sales of petroleum products