Content
This is an archived release.
Increased sales of gasoline and diesel
Sales of gasoline amounted to 86 million litres in February this year, an increase of 5 million litres compared to February last year. Sales of diesel increased by 31 million litres and sales ended at 317 million litres. Total sales of petroleum products amounted to 637 million litres in February, a 24 million-litre increase compared to February 2015. A possible explanation to the increase is that February 2016 was one day longer than February last year.
Deliveries and prices petroleum products, million litres and NOK. Preliminary figures
February 2016
February 2015
Change in per cent
February 2015 - February 2016
Total sales of petroleum products
637
613
3.9
Motor gasoline
86
81
6.2
Auto diesel
317
286
10.8
Auto diesel, price
10.95
12.14
-9.8
Auto gasoline, price
12.93
13.55
-4.6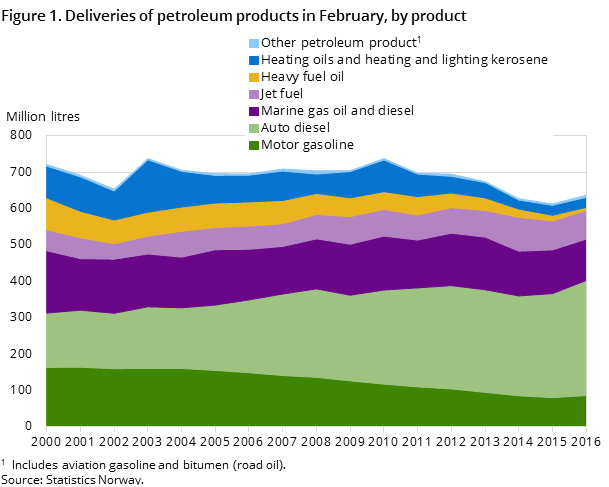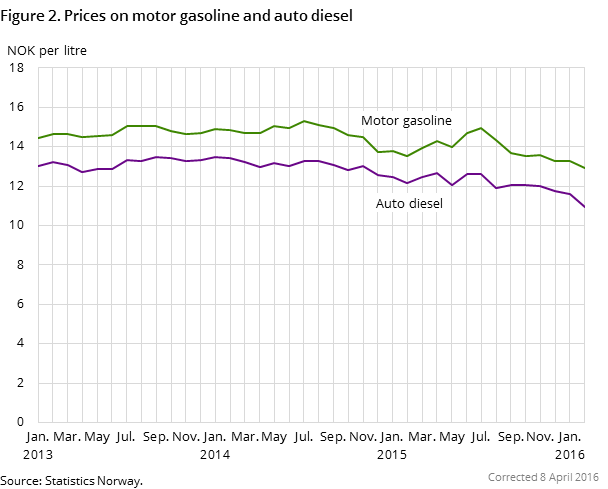 Find detailed figures for Sales of petroleum products