Content
This is an archived release.
Decrease in sales of petroleum products
Total sales of petroleum products ended at 690 million litres in May. This is a decrease of 10.5 per cent or 81 million litres compared with May 2013.
Deliveries and prices petroleum products, million litres and NOK. Preliminary figures
May 2014
May 2013
Change in per cent
May 2013 - May 2014
Total sales of petroleum products
690
771
-10.5
Motor gasoline
111
117
-5.1
Auto gasoline, price
15.0
14.5
3.4
Auto diesel
314
311
1.0
Auto diesel, price
13.2
12.9
2.4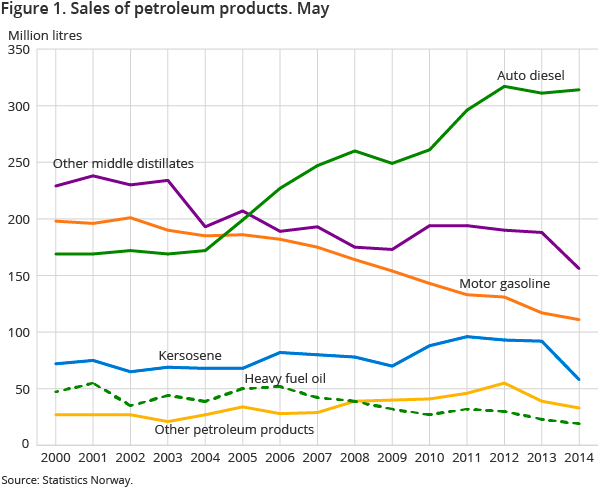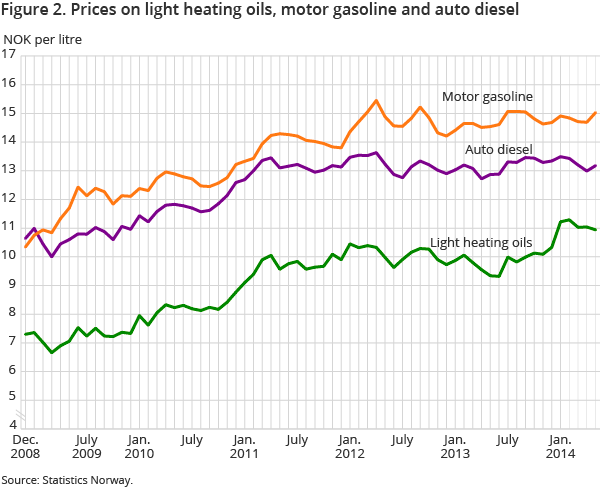 Sales of diesel ended at 314 million litres in May; a 1 per cent increase compared to May 2013. One litre of diesel on average cost NOK 13.18. This corresponds to an increase of NOK 0.32 from May 2013 and a decrease of NOK 0.19 from April to May.
Sales of gasoline decreased by 5.1 per cent or 6 million litres. The average price of a litre of gasoline was NOK 15.03; NOK 0.50 more than in May 2013 and NOK 0.34 more than in April.
Other petroleum products
Sales of the other petroleum products also decreased. Sales of middle distillate amounted to 156 million litres; a decrease of just over 17 per cent. Middle distillates consist of, among other things, marine gas oil and light heating oils. Sales of light heating oils amounted to 3.6 million litres in May. One litre of heating oil cost on average NOK 10.94 in May. This is an increase of NOK 1.60 from May last year. Sales of marine gas oil fell by 25 million litres and ended at 130 million litres.
Find detailed figures for Sales of petroleum products