Content
This is an archived release.
The figures in the first and second quarters of 2015 may contain errors. Revised figures will be published soon.
High activity in civil engineering works
The building and construction activity rose by 1.0 per cent from the 1st to 2nd quarter of 2015, according to seasonally-adjusted figures. While building activity remained unchanged, civil engineering works rose by 5.2 per cent this quarter.
Construction, production index. 2010=100
Seasonally adjusted, per cent
Working day adjusted, per cent
Index
1st quarter 2015 - 2nd quarter 2015
2nd quarter 2014 - 2nd quarter 2015
2nd quarter 2015
Total
1.0
1.5
126.3
Buildings, total
0.3
0.1
116.7
Civil engineering works
5.2
6.2
163.5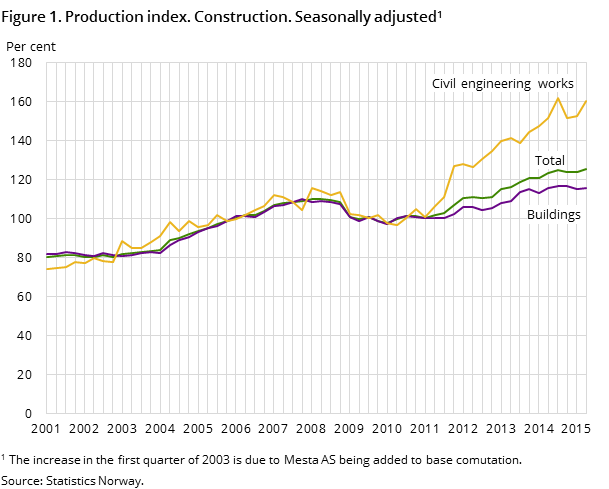 The total production in the 2nd quarter was 1.5 per cent higher than the corresponding quarter in 2014, when adjusted for working days. This corresponds to a minor rise in building activity of 0.1 per cent and substantial growth by 6.2 per cent in civil engineering works.
Find detailed figures from Production index for construction