Content
This is an archived release.
Fewer inter-country adoptions
A total of 354 adoptions were carried out in Norway in 2015, which is the lowest recorded figure since statistics on adoption were first produced in the 1960s.
Adoptions
Total
Per cent
2015
2014 - 2015
2005 - 2015
Adoptions, total
354
-3.8
-60.2
Intercontry adoptions
132
-7.0
-81.3
Stepchildren
160
1.3
15.9
Other adoptions
62
-8.8
29.2
Intercountry adoptions, selected countries
China
12
-25.0
-94.2
Colombia
28
40.0
-76.3
South Korea
8
-61.9
-93.6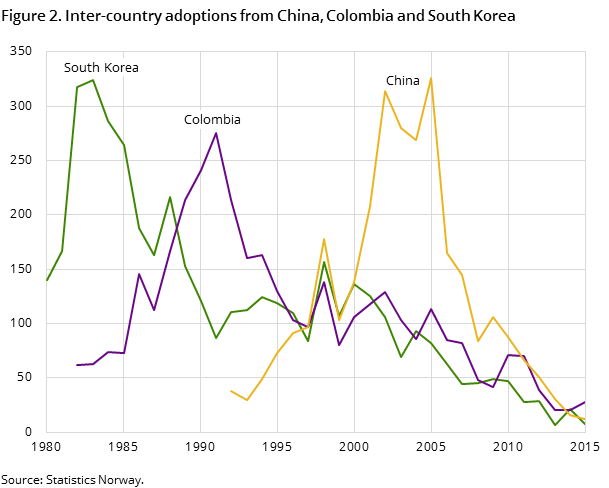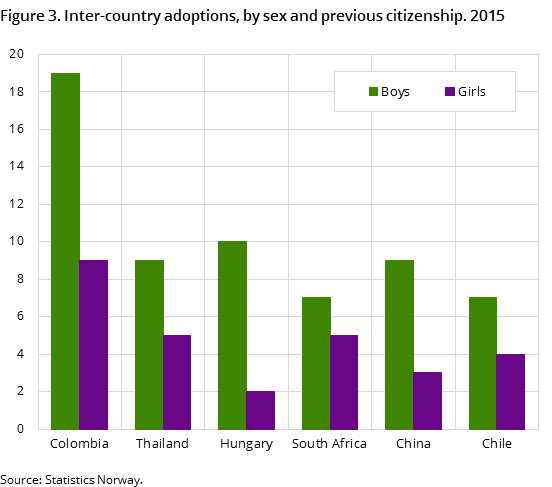 There were 132 inter-country adoptions and 160 adoptions of step-children in 2015. Additionally, 54 foster children adoptions were carried out in 2015. The number of inter-country adoptions has decreased significantly since the mid-2000s, while the number of step-children adoptions was stable over the same period.
The numbers continue to fall
The number of children being adopted internationally into Norway continues to decline. The highest number of inter-country adoptions was in 1998, with nearly 800 adoptions. The number has fallen by 81 per cent since 2005, from 704 to 132. From 2014 to 2015 alone, the decline was 7 per cent.
The country with the highest number of adoptions to Norway in 2015 was Columbia, with 28. A total of 49 children were adopted from Asia, which is 37 per cent of all inter-country adoptions in 2015. A total of 14 were adopted from Thailand and 12 from China.
A total of 41 children were adopted from South and Central America, or 31 per cent of all children adopted from abroad. A total of 27 children were adopted from Africa, of whom 12 were from South Africa.
In 2015, 91 boys and 41 girls were adopted from abroad. The number of girls adopted internationally continues to fall, especially from China.
Eight out of ten children adopted from abroad were under 5 years old, and 42 per cent were in the age group 0-2 years.
Stable numbers of step-children adoptions
The number of step-children adoptions was at about the same level as in 2014. A total of 160 step-children were adopted in 2015, with a slight predominance of girls. Step-children are older than the children adopted from abroad. Seventy- six per cent were 5 years or older, while the corresponding proportion among children adopted from abroad was 23 per cent. Step-children adoptions mostly involved children with Norwegian citizenship, and three out of four in this group were adopted by their step-father.
Find detailed figures from Adoptions