Content
This is an archived release.
26 per cent increase in four years
Results from the Labour Cost Survey 2008 show that average labour costs in private sector amounted to NOK 587 000 NOK per full-time employee. This corresponds to an average annual increase of 5.9 per cent from 2004 to 2008.
Labour costs include both the direct and indirect cost of employees. The direct costs are wages and salaries in cash, while indirect costs include employers' social security contribution, pension plans and insurance, payments in kind and on-the-job training as well as other miscellaneous costs.
Oil workers three times more expensive than waiters
There are considerable differences in labour costs between industries. Oil and gas extraction and mining along with financial intermediation and insurance have the highest labour costs with respectively NOK 1 075 000 and NOK 853 000 per full-time employee. This corresponds to an increase of respectively 33 and 35 per cent since 2004.
Hotels and restaurants had the lowest labour costs with NOK 387 000 per full-time employee. This is an increase of 17 per cent from 2004.
Labour costs per full-time employee in Manufacturing amounted to NOK 578 000 in 2008, an increase of almost 30 per cent from 2004. In comparison the costs in wholesale and retail trade amounted to NOK 494 000 and in transport and communication, NOK 603 000. This represents an increase in total costs from 2004 of respectively 22 and 33 per cent.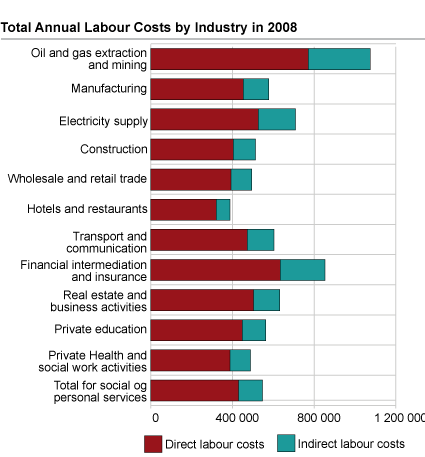 Labour costs excluding wages
Indirect personnel costs in the private sector amounted to NOK 128 000 per full-time employee in 2008. This covers approximately 22 per cent of total labour costs. The corresponding share in 2004 was 21 per cent.
Indirect labour costs' share of total labour costs differ between industries. Across industries, indirect costs represent the highest percentage of total labour costs in oil and gas extraction, where approximately 28 per cent of total labour costs are indirect. For companies within hotels and restaurants this number was only 17 per cent.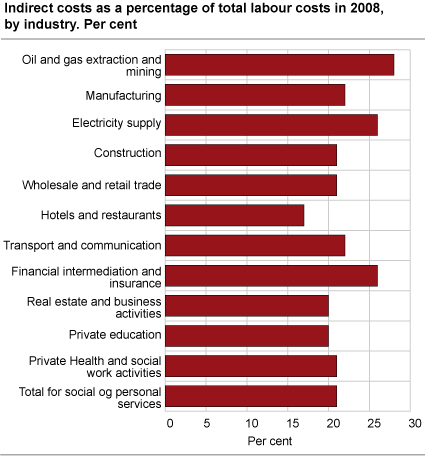 Electricity supply had the largest change in indirect personnel costs as a share of total costs with a decrease from 30 per cent in 2004 to 26 per cent in 2008.
Employers' social security contributions amounted to a little more than a fourth of indirect costs, while benefits in kind amounted to almost one eight.
In oil and gas extraction and mining, employers' social security contributions constituted 38 per cent, social costs 35 per cent and benefits in kind 15 per cent. The corresponding shares in hotels and restaurants were respectively 64, 16 and 7 per cent.
Labour costs
Labour costs are defined as employers' total costs associated with having employees. It is divided into direct and indirect costs. Direct costs include paid wages, renumeration, vacation pay and other cash payments. Indirect costs include salaries in kind, costs for safety and health, social contributions, taxes and training costs.
New Standard Industrial Classification
The 2008 statistics are presented in both the new and the old industrial classification. The old industrial classification (SN2002) are used so that the statistics can be compared with the last survey from 2004. For subsequent years the survey will only be presented according to the new classification (SN2007).
More about the differences between the two classifications can be found here .
About the statistics
The statistics are based on information from a sample of 4 093 enterprises with ten or more employees, which amounts to a total of 594 000 full-time employees in 2008. According to the Central Register of Establishments and Enterprises there were a total of 25 200 enterprises with more than ten employees in 2008. These had a total of 1 228 000 employees. The statistics do not cover public administration, agriculture or fisheries.
The labour cost survey is carried out every fourth year.
The statistics contain some cost components that are difficult to quantify precisely. See about statistics for more about errors and uncertainty.
Tables:
Find detailed figures for Labour costs