Content
Increased food prices last month
The Consumer Price Index (CPI) rose 0.2 per cent from April to May. Higher food prices and airfares contributed most to the increase. The year-to-year growth in the CPI was 2.1 per cent in May, while the CPI-ATE growth was 2.4 per cent in the same period.
Consumer Price Index 1998=100
Monthly change (per cent)
12-month rate (per cent)
Index
April 2015 - May 2015
May 2014 - May 2015
May 2015
CPI All-item index
0.2
2.1
139.6
Food and non-alcoholic beverages
1.5
2.6
132.3
Housing, water, electricity, gas and other fuels
-0.5
2.3
169.7
Transport
0.7
1.1
151.0
Recreation and culture
-0.5
2.9
122.6
Clothing and footwear
0.7
-0.5
54.5
CPI-ATE (july 1999 = 100)
0.5
2.4
130.9
CPI by delivery sector
Other consumer goods produced in Norway
-1.2
0.7
161.0
Imported consumer goods
0.2
2.4
93.8
Other services with wages as dominating price factor
0.1
2.9
214.4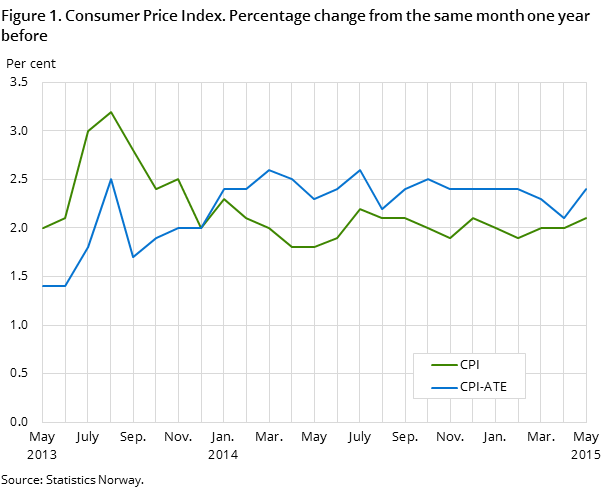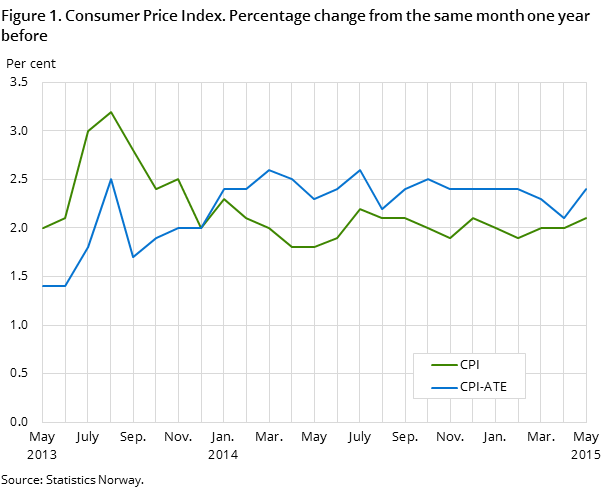 The CPI was 139.6 (1998=100) in May 2015, compared to 136.7 in May 2014, which corresponds to a year-to-year growth of 2.1 per cent.
Monthly change: higher prices of food and increased airfares
The CPI rose 0.2 per cent from April to May. The biggest contributors to the increase were the prices of food, which rose 1.8 per cent, and airfares, which increased 19.9 per cent. Every food sub-group showed an increase in prices, with fruit and vegetables increasing the most. Prices of domestic flights accounted for the entire increase in airfares. Increased airfares in May are not uncommon, especially when viewed in conjunction with the falling prices recorded in April.
Prices of clothing rose 0.8 per cent from April to May. This is the fourth consecutive month of rising prices, and the first time in five years with a positive change in prices from April to May. Increased prices on restaurant services and furniture and decoration articles also contributed to the rise in the CPI this month.
The CPI increase was dampened by lower prices of electricity, household textiles, fuels and books. Electricity prices and grid rent both fell last month, with a combined price decrease of 4.1 per cent. Prices of household textiles fell 10.4 per cent last month, and fuel prices went down 2.5 per cent. The prices of books fell 9.1 per cent, which is normal for this month, as the maximum discounts set for books with a release date the previous year expire every year on 1 May as described in the Norwegian "book agreement".
Year-to-year growth: increased prices of food, beverage and furniture and higher rents
The CPI rose 2.1 per cent from May 2014 to May 2015. Prices of food and non-alcoholic beverages combined rose 2.6 per cent in the last twelve months. Imputed rentals of owner-occupiers increased 2.3 per cent, while actual rentals paid by tenants increased 2.8 per cent in the same period. The prices of furniture and furnishings increased 9.7 per cent, while prices of books, newspapers and stationary rose 8.7 per cent.
The year-to-year growth was mainly dampened by lower fuel prices. Petrol and auto diesel prices were 6.9 and 8.7 per cent lower in May this year compared to May last year. Also contributing to the dampening effect were lower prices on non-durable household goods, clothing, package holidays and telecom services.
Change in the year-to-year growth: CPI growth rate up 0.1 percentage point
The year-to-year growth in the CPI went up from 2.0 per cent in April to 2.1 per cent in May. This increased growth rate is mainly due to the price development in airfares. Airfares rose almost 20 per cent from April to May this year, while falling more than 9 per cent in the same period last year.
The year-to-year growth in the CPI-ATE was 2.4 per cent in May; an increase of 0.3 percentage points from April. This was mainly due to the aforementioned price development in airfares.